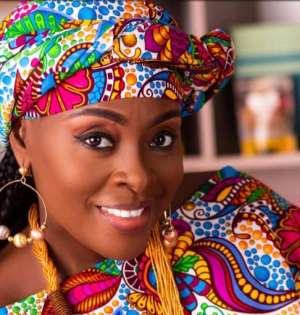 Ace Highlife singer, Akosua Agyapong is set to storm the "Fridays Bar and Restaurant" in Sakumono, Accra on December 18, 2021 as part of entertaining patrons amidst the Christmas yuletide.
The Multiple Award musician would mesmerise fans with jam-thrilling music and dance performances at the event dubbed "A Night with Akosua Agyapong".
It would be a night of wee-feeling where patrons would experience blissful concert from the celebrated highlife sensation, and other acts from several performers.
In an interview with the melodious highlife dynamo, fans are should expect a different feel of what she does, adding that, the night would be filled with a glimpse of gleeful show.
"I would be performing with the Immigration Band, and that would be a super exciting night with this particular band", she disclosed.
The Fun blazing night, according to Akosua Agyapong would be an ever scintillating night that would forever linger on the minds-eye of patrons.
She promised fans to have a night of music that would soothe the mind, body and soul which would serve as an antidote for alleviating all forms of emotional stress.
Sensational Akosua Agyapong urged fans to anticipate a beautiful night, where patrons should expect nothing but the best of music and amazing dance which she is notable for.
General Manager of Fridays Bar and Restaurant, Mark Gaskin reiterated the Restaurant's commitment to making the event very captivating to all patrons.
He indicated that Fridays Bar and Restaurant noted for exceptional Friday Live band performances that entertain patrons to the fullest.
Marketing and Events Manager, Kelvin Ansah said the night would draw patrons from all corners of Accra to have a feel of what Fridays Bar and Restaurant is capable of doing with its serene and refreshing atmosphere.
"It would be a night of ecstasy and networking, with 'Fridays' providing a world class treatment to customers on that day", he assured.
He said, "Tickets are going out for sale at Fridays Bar and Restaurant at Sakumono and online".