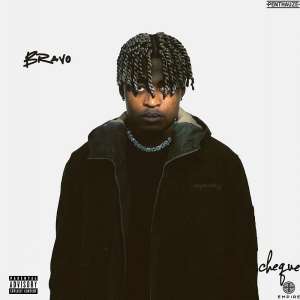 I met Cheque at a show in 2016. He was then known as Kyle B. An undergraduate of Obafemi Awolowo University who chose music as a hobby.
A year before we met, I already became a fan after I listened to his debut EP (2015) which he called SOON; Something Out Of Nothing. The project features his close friends like the then-wave-making Chinko Ekun, Virus Zamora (Now Zamorra), and DML (Fireboy).
Last December, we were in the same hallway of a hotel. I didn't recognize him. It took a nudge from a friend to spot him, I remember his word, "that's Cheque, the guy that sang zoom 3x"
His appearance reminds one of SSS—all dress up, this time around, it comes with a swag. Cheque was in his Ondo town—the town he grew up in. He is now loved in his hometown as he prophesied on the emo track "Zoom 3X".
Pyno's financial weight and strategies have been paying off on Cheque. First, with Razor EP, it was an awesome introduction to the rebranded Cheque, he explores the emo-rap for his sound inflections. If you listened to SOON and Razor, you will note the disparity between the two projects, the change in sounds, the maturity in word articulation, and the brand positioning of Cheque, at a point, he started imitating Rema in his postures on IG.
14 months after the formal announcement, Cheque returned with his debut album which he called Bravo. 10 tracks out of the 13 have not seen the light, fresh sound from the sound oven.
Propelled by a wonky piano chord, "Rockstar" opens the project with the artist releasing some held-up emotions and thoughts. It serves as purgation before the real deal.
Cheque taps Ayra Starr for the half-sweet half bitter tune about love and its intricacies. Ayra becomes the enabler in the ocean of love which seems to drown one of them. A party seems to enjoy it more. "Call Me Baby" is a return to an emo trap with a nod to ballad. The bopping track runs on self-assured lines and saccharine words.
The first six tracks after the opening number tethers to ballad in all ramifications. From drowning in toxicity "Blind" to making a vow not to kiss and tell on two tracks and his overt infatuation with the female "Body". YBNL boss, Olamide comes up on the mellow and guitar-based track "LOML". It is a departure from the previous track, a way to show his versatility.
Fireboy and Cheque attended the same University, they were also signed to the same record label between 2016/2017. When they talked about history, they were not mouthing. History is prophetic, rife with pain-sapped and hopeful lines, the eerie piano, baseline sinks in the message.
One message stands out on this project, LOVE. Cheque explored the trope to his satisfaction, when you assume he has learned his lesson on "Blind", he returns to it on "Sweet Love".
"Change" is the type of victory song you sing at a house party with your day one. It exudes success after hit and stumble voyage through life. On "Pray", Cheque takes the love story to church. The EP runs to a stop on "Free". An emphatic victory lap for the artist in the wave of life challenges.
Bravo is a sleek continuation of what Cheque started in July 2020. Within two minutes short of 40 minutes, he takes the listeners through his journey while he deploys ballad as the central shitsk, at a point, it became predictable, this could have been avoided if the album was properly track-listed. At the end of the listening session, you are bound to nod to anyone who says the success of Razor was not a fluke.
Emmanuel Daraloye is a music journalist. He can be contacted via Emmanuel Daraloye on Facebook/Instagram/Twitter