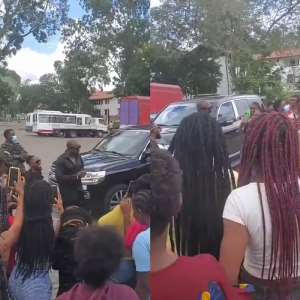 Prior to the premiere of his long-awaited self produced movie, 'Bad Comment', award winning Nigerian actor Jim Iyke has for weeks been on tour on the various media platforms in Ghana.
He has scoured a few media platforms and has on a few occasions opened up on his life, career as an actor and his thoughts on the creative arts industry issues between his mother country Nigeria and that of Ghana.
During the past weekend, the prolific actor turned businessman decided to land his campaign train at Ghana's premier University, Legon.
It is not clear how some female students of the university got to know of his coming but the video indicates that the girls were already waiting at the car park where the actor was to make a stop.
There were constant blushes and jeers by the ladies as they were excited to meet the Nigerian prodigy.
Check out their reactions here;