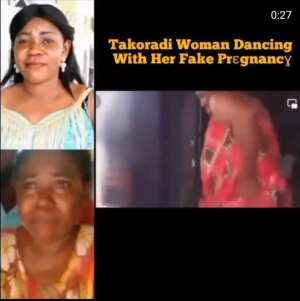 A video circulating on social media shows alleged Takoradi kidnap victim Josephine Panyin Mensah has her dancing grooves and steps intact.
Josephine, age 28, who is currently in the grips of the police service in Takoradi after an alleged pregnancy hoax in the video is seen shaking what her mama gave her.
At what appears to be a birthday party, Josephine is seen displaying wild dance moves and she does it for minutes until it ends in a wild shaking of her backside.
This has got many netizens talking because she appears to be in her pregnant state while shooting this video was shot.
Onlookers however jeer her on as she does it wildly as though it is no one's business.
Currently, Josephine has proven not guilty to charges against her in court and has been granted bail in the amount of GHc 50,000.