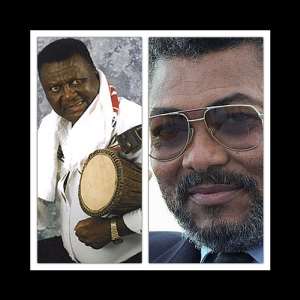 Veteran highlife AB Crentsil has revealed that the late ex-President, Jerry John Rawlings loved his controversial song 'Moses' on the blind side of many Ghanaians at the time of its release.
AB, in an interview on the United Showbiz show on Saturday, shared that an event he played at Central Region in the presence of the late President revealed the latter loved his music.
The song at the time of its release was met by several criticisms as many music lovers read diverse meanings into the lyrics of the song as it metaphorically treated an erotic encounter between two lovers using the biblical character Moses.
According to AB Crentsil, he had feared that ex-President Rawlings was going to be against it as the Christian Council then had called on music regulatory bodies to clamp down on the song.
He narrated; "We had gone to Cape Coast to perform at a dance at the time the song was released and we took some copies of the records there to display on sale but unfortunately, President Rawlings showed up with his bodyguards to enjoy themselves.
"We were gripped with fear and decided not to play the Moses song we pretended we did not own the records and we had to turn down people who came to request that song."
He went on to reveal that the irony of the evening happened when a member of the ex-president walked up to him on stage.
"Suddenly, a bodyguard of the president walked up to me and whispered in my ears that President Rawlings had requested for some of the records of Moses song and outright I gave him four copies."
This comes as shocking revelation when at some point, rumours went around that AB Crentsil and the late ex-President Rawlings were at loggerheads.
It was believed that the 'Samo' song was a diss song to the late President.