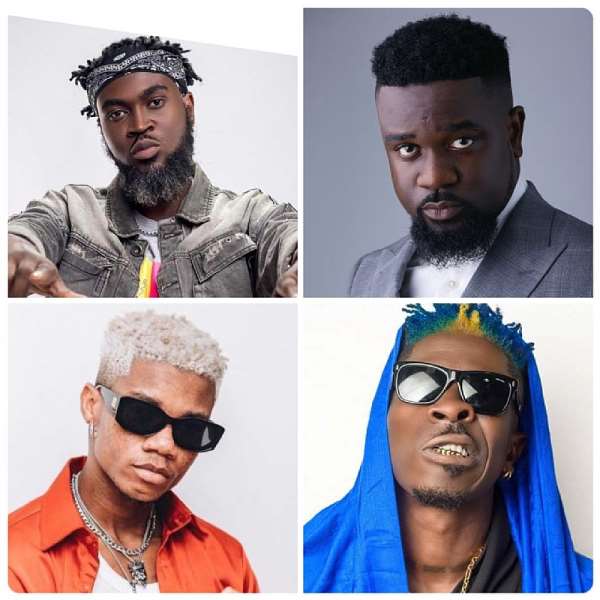 Budding Ghanaian Hip-Hop artiste, Jo-Quaye has says he is the best artiste ever to be produced in Ghana.
Known in real life as Jonathan Addoquaye Akwei Jr., Jo-Quaye was expressing his view in an interview on Fresh Radio, a Germany-based Ghanaian radio station in line with whom he believes is the best musician in Ghana currently.
According to him, though Kuami Eugene, KiDi, Sarkodie, Stonebwoy, Shatta Wale, Samini and others are doing well, his style and current songs make him the best musician ever.
"This is not an issue at all...I am better than all the artists in Ghana... I'm better than Kuami Eugene, I am better than KiDi, I am better than Sarkodie...Sarkodie will say he is also better ... I believe in myself; I am better than Sarkodie...I have a unique style...I do good music" he told the host P Fresh.
Jo-Quaye emphasised that he doesn't see any competition in the music industry.
According to him, whoever the masses try to hail as the best, he endeavours to also work extra hard in order to surpass the level of that artist.
About Jo-Quaye
Jo-Quaye, born Jonathan Addoquaye Akwei Jr., is a Dansoman - based Hip-Hop recording Artiste, a Beat Producer and the C.E.O of Black Vibes nation.
Born in Accra, September 18th, He was formerly known as Blaka Gh (tualai),but now notably known as Jo-Quaye, from his real name that makes him original and unique.
Jo-Quaye grew up listening to the likes of 2Pac,Nas,Eminem,Sizzla,Okomfour Kwadee and Kojo Antwi. J.Cole and Kendrick Lamar made him understand the art in his talent since he fell in love with their music.
He gets inspired with life each day and it has helped build his musical reputation on the hard truth,focusing his songs on inspirational and social issues surrounding our day to day activities.
His first public performance was at a Street Battle in D.C, where he exhibited extraordinary talent, and won the hearts of the crowd gathered including celebrities.
Utilizing Twi, Ga, Pidgin and English in his music, Jo-Quaye has bridged the gap; cutting across audiences in Ghana.
His first single, PropaGanda which was released in 2010 addressed the socioeconomic issues as well as political problems in Ghana, citing few incidents in the music, movie and sports industries.
He has collaborated with most of the big stars in the industry like Kojo Kombolo, Shatta wale, Stonebwoy, Stone (bradez), Kesse, Luther.Aj OmoAlajah,Episode,Chymny Crane, Kochoko Etc.
Aside from Jo-Quaye's dexterity in rap, he's also a sound engineer and a trainer. Black vibes nation is a group, formed by Jo-Quaye but has quite a number of members and few administrators; and it is intended to help the youth in GH develop their skills in rap and music production.
"Swee" is the slogan he uses quite often. Jo-Quaye is a very great talented young man who has a lot to offer the Ghanaian music industry and the world at large, he believes in making his fans happy always by enlightening them, alongside spreading love to the world.
Listen to Propaganda below