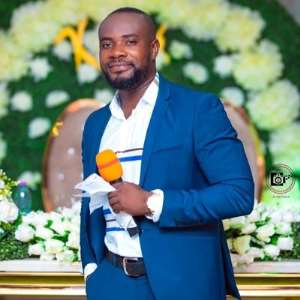 Self-acclaimed nation's MC and radio personality Kwame Oboadie says frustrations at some point in his life led him to become an alcoholic person.
Speaking on the Delay Show on his painful journey to fame, Kwame stated that he started work in the media at Nkawkaw in the Eastern Region after graduating as a teacher at the Abetifi Teacher Training School.
According to him, he worked there for four years without a salary and this he said was a result of his passion for the media job.
He stated that at some point during his days at Nkawkaw, he had wanted to further his education and so he enrolled at the Kwame Nkrumah University of Science and Technology in the Ashanti Region.
Kwame revealed that some unfortunate occurrences, which he chose to keep to himself led to his expulsion and that led him into alcoholism.
He stated that situations got tough at Nkawkaw and he decided to relocate to Accra to live with his friend who lived at Abossey Okai.
Unfortunately, his friend got married and moved in with his wife making the single room in which they lived less accommodative so he had to move.
Kwame Oboadie sadly recalled that he resorted to selling bread at the VIP bus terminal at Accra.
He said he went on to the University of Ghana to further his education.
Speaking on his eventual breakthrough in the media fraternity, Kwame stated that he went on to the GBC radio school where he acquired a certificate in attachment to the ones he had and he applied as an intern with Multimedia Group media outlet, Adom FM.