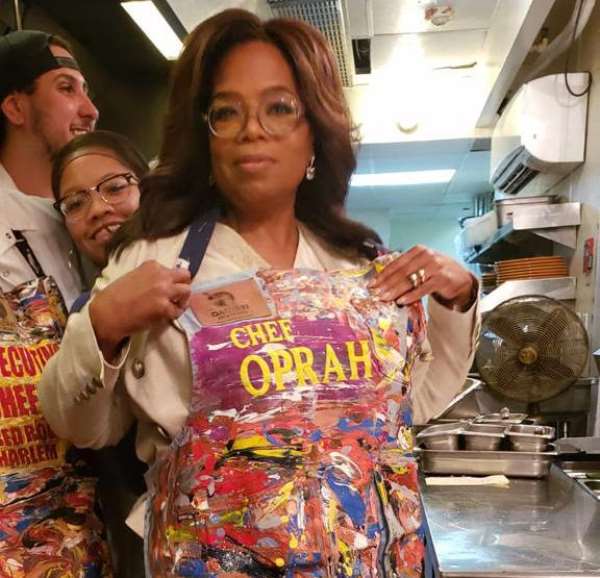 A Ghanaian New York based artist, Hass Kwame is making a waves with his creative painting works.
Under the brand name Danyaki Art and Designs, he hand paint garments and aprons to give it a unique art work. He uses the process called 'Ideation' to do his painting work.
Considering the uniqueness of his creative art designs, he has since collaborated with giant international tech firms including Facebook and Opera. Buzfeed, Bonapeti and Pepsi have also collaborated with the artist.
For Pepsi, the company collaborated with the artist to run a commercial ad (advert) for it.
International celebrities like Winfrey Operah, Marcus Samuelsson, Anne Burrell, Rachel Ray and Daniel Boulud have separately pose pictures of creative Danyaki painted aprons.
The rest included Andrew Zimmerman, Massimo Bottura, Geoffrey Zakarian, Adrienne Cheatham, Carla Hall and JJ Johnson amongst many others.
This has made the name, Hass Kwame a household name in New York.
Currently, Hass Kwame has secured a one year contract with Metropolitan Montessori, 85th Street in New York to tutor and coach students from 4th to 6th Grade on how to paint.
Hass Kwame, a Ghanaian by birth attended Kikam Technical Institute (KTI) where he studied Electrical Engineering.
In 1999, he moved to the United States of America where he enrolled to study Art and Designs at an Advance level.
After being absent from Ghana for 17 years, he finally returned to Ghana in 2015 to visit family and friends.
He returned to the USA in 2016 where he launched the Danyaki Art and Design brand, a household brand in New York at the moment.
Speaking in a telephone interview, Hass Kwame told this reporter his creative works were so unique that people were ready to reach out to him.
"I have worked with Facebook, Opera, Pepsi, Buzfeed and so many."
He said, for now, the future for Danyaki was to have it branded aprons in every single household and kitchen in America.
"We are very prevalent here in New York and the plan is to extend across NY to whole America."