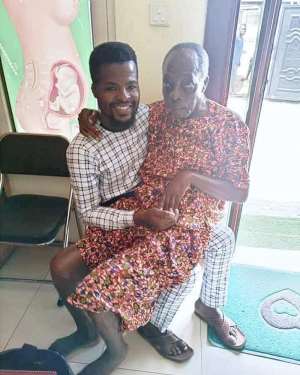 Veteran Ghanaian actor 'Kohwe' seems to be in trouble as the latest picture of him has surfaced on social media depicting him as a very sick man.
A post by blogger Zionfelix sighted by ModernGhana News evidently shows he has been ill over a period.
The post, showing a sickly and lean 'Kohwe' sitting on the laps of an unidentified gentleman at Dr. Power Herbal Center hospital.
Born Kofi Laing, the comical actor and lead character in Ghanaian colonial concept sitcom, 'District Colonial Court' in which he starred as a native man serving as a special aid to the governor's rep for a rural community.
He entertained millions whenever he was in motion.
In 2019, the veteran Ghanaian actor urged people ''not to wait for [him to die before the pay glowing tribute to him for his contributions].''
''Your tribute will be meaningless because it will not bring me back to life,'' he decried.