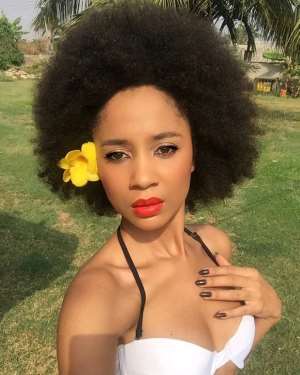 Controversial social media celebrity and former girlfriend of Medikal has received praise from the international human rights and LGBT community for standing up in defence of the LGBT community in Ghana.
This comes after Hon. George, the Member of Parliament for the Ningo Prampram constituency and seven other MPs who pushed for the anti-LGBT bill in Parliament took to Twitter to blast persons who defend LGBT rights.
Sister Derby however did not take comments from the MP lightly, a situation which led to a heated argument between the two on social media.
It is still unclear why sister Derby is in strong support of the LGBT community in Ghana, however, it has been observed that her consistency in defence of the group has caught the attention of many, including advocates abroad.
Sister Derby has been very vocal over the anti-LGBT law that makes LGBTQ activities criminal in Ghana.
According to her, LGBT people have the right to express their love in any form they deem fit, and it will be inhumane for a law to prevent them from exercising their rights and freedoms, although the MP for Madina, Hon. Xavier Sosu, who is a human rights activist and lawyer believes LGBT rights are not human rights.
Other celebrities have since jumped in support of Sister Derby, including Wanluv Kuborlor and Pappy Kojo.
Sister Derby has also released a song titled "Supe Super" which highlights the condition of LGBT persons. The song tells of the inherent good in being an LGBTQ and suggests that it is common to find LGBT persons everywhere, including in our families.
The song has received praises from the LGBT community, but many social media users have descended heavily on her for her promotion of unnatural sexual activity as well as foreign culture.