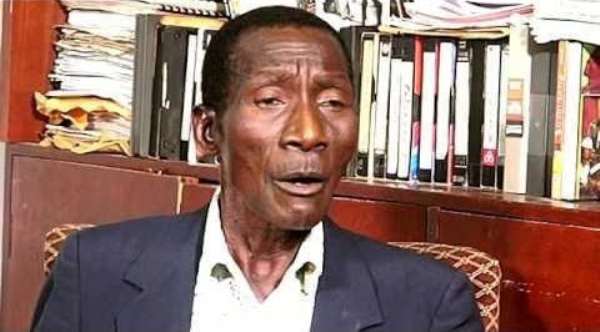 All is set for the observance of this year's World Theatre Day in Ghana with a special programme meant to highlight the roles theatre plays in our activities and its potential in the development chain.
The event dubbed 'Convo in the Amphi' is slated for today Saturday, 27th March 2021.
Initiated in 1961 by the International Theatre Institute (ITI), the day is to be celebrated by ITI centres, ITI cooperating organizations, theatre universities, theatre professionals, theatre organizations, and theatre lovers all over the world to project the value and importance of theatre as a wake-up-call for governments, politicians and institutions which have not yet recognized its value to the people and to the individual and its potential for economic growth.
Theatre besides its recreational effect has several benefits so far as the development of a nation and its people are considered.
Ghanaian Drama legend, Prof. Martin Okyere Owusu will lead the conversation.

Prof. Martin Owusu
Dr Felicia Owusu Ansah (lecturer, Theatre Department of the University of Ghana) and Dr Daniel Appiah Agyei (Head of the Theatre Department of the University of Ghana) will be the panel for this discussion at the maiden edition of 'A Convo in the Amphi' (A Conversation in the Amphitheatre).

Dr Felicia Ansah
The session which will be held virtually on zoom/webinar and transmitted on Facebook because of the COVID situation will have interlude performances such as an act presentation (from Efua Sutherland's 'Marriage of Anansewaa') by the Theatre Studies Department of the University of Cape Coast, poetry enactment by Play House.kom and Palmwine music performance by Lozo and the Shw3l)i band and Oswald Okaitei.

Dr Appaih Agyei
Fio Richardson (Ag. Director, Planning, Research, Monitoring & Evaluation, National Commission on Culture and a Theatre Practitioner) will be the moderator.
The time for the event is 6:00 pm and the passcode for participation is 150150 and webinar ID, 885 7959 3302.
For more information, one can contact +233 244 174 908 or visit the Facebook page of Play House.kom.
'A Convo in the Amphi' is organized by Play House.kom in partnership with e-Ananse Libraries and Philjoe Multimedia and supported by Graphic Showbiz, GBC 24, citinewsroom.com and Insight Newspaper.

---Citinewsroom