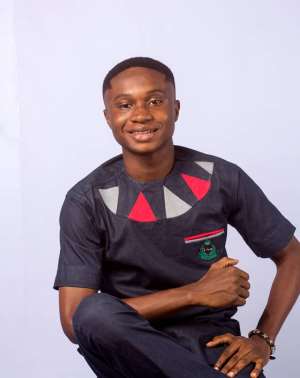 One of Ghana's young music sensations who is yet to be seen Simon Kumangye says the world should get ready for him.
The young talented gospel musician who has just graduated from Kumasi based OPOKU Ware Senior High School says even though he is gifted and called to minister to all kinds of people through music, he had to acquire some knowledge to help him in life.
Speaking to Modern Ghana Online, Simon admitted it has not been easy combining his Senior High School education and music ministrations across the country, and this has taught him what to expect as he intends going higher the ladder of education.
"It has not been easy at all, sometimes it was so tempting to quit school since several opportunities came my way but by the help of God and my managers, I was able to focus and finish my Senior High Education". He said.
He released his first single (My past is over, featuring Lewis Bivigou from Gabon) in 2014, even before going into Senior High School.
Many young talents have had serious challenges combining education with their talents without having one of them pulled down, but Simon said he thanks God for giving him two great gifts; academic intelligence and great vocal skills.
His enormous contribution to the OPOKU Ware Senior High School Choir, Revival Singers between 2018 and 2019 even as a science student, earned him the coveted Music Director position of the choir between 2019 and 2020, a position he held with all his heart.
Starting to sing at age four, his ministrations have always wowed patrons, leaving most of them wondering how God can use such young people to minister joy, peace and healing to even adults.
The long list (repertoire) of programs where Simon has ministered include Diana Asamoah's Abba Father, Action Chapel Spintex Road, Crossfest and M'aseda nie.
The teenager says he feels proud to have shared same stages with powerful ministers like Ps.Isaiah Ofosu-Kwakye, Eugene Zuta, Koda, Cwesi Oteng and Rev.Kojo Oteng. Others are Francis Amo, Nyameba Asamoah and Cece Twum.
Simon has released another powerful single track titled Gye w'ayeyi, written by Ps. Joe Oteng.
Promising to release a lot of powerful singles, covers and anthems, Simon says he is 'open and ready to follow God's leading anywhere, anytime'.