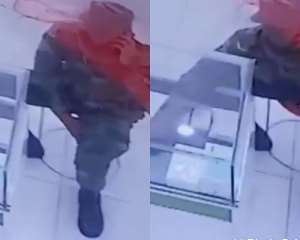 A Ghanaian soldier has been captured on a CCTV footage allegedly stealing iPhone 11 Pro at a phone .
From the video making rounds on social media, the officer of the law sat in the shop with his head covered up with a military cape and a scarf.
He appeared to be on a very serious call.
He observes if the shop attendants are looking at him.
When he got the chance, he quickly removed the phone which was on exhibitions and slid it into his side pocket.
Right after the criminal act, he quickly stood up and left the scene.
Watch the video below: