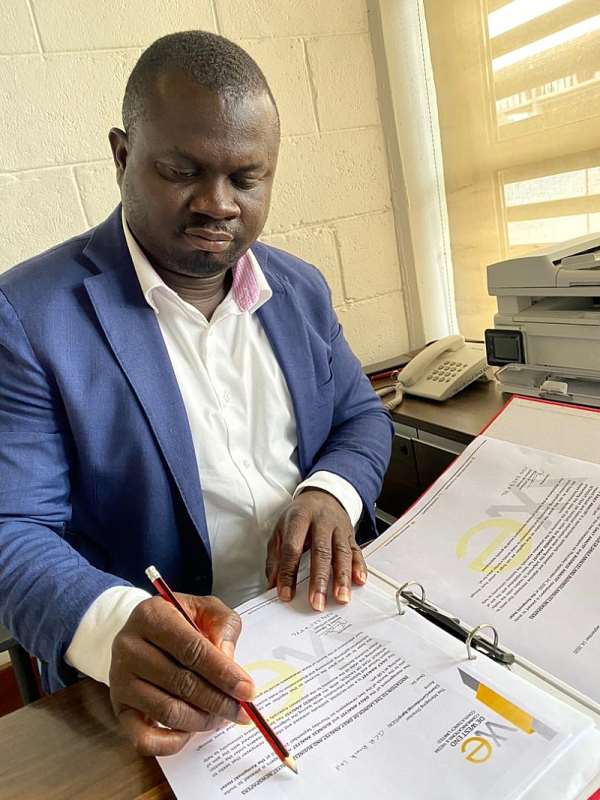 The Managing Director of Atinka Media Village, a subsidiary of the Tobinco Group, Albert Dwumfour, has been promoted to Corporate Affairs Manager within the group.
Mr. Dwumfour will be handling matters relating to corporate communications for the group and will directly report to the Executive Chairman, Nana Amo Tobbin I.
The current National Organising Secretary of the Ghana Journalists Association (GJA), who is also gunning for the GJA presidency, is expected to bring to bear on his new role his vast experience in corporate communications and PR and media consultancy in a group which comprises, Tobinco Pharmaceuticals, Entrance Pharmaceuticals and Research Center, Entrance University Hospitals, Entrance University of Health Sciences, Toblues Properties, Abii National Savings and Loans, Priority Insurance, Samuel Amo Tobbin Foundation, Dors Event and Atinka Media Village.
Mr Dwumfour has risen through the ranks within the group: first as Chief Operation Officer in Charge of Media for the Tobinco Group, then General Manager of Atinka while serving as Board Secretary to the JAM Media Group, now Atinka Media Village (AMV). He was subsequently appointed Managing Director of Atinka Media Village, which comprises Atinka TV, Atinka FM, Agyenkwa FM in Kumasi, Ahoto FM in Takoradi and Atinkaonline.com.
He has served in his current capacity for two years and has been promoted to the Tobinco Group at Spintex as part of a restructuring process within the company.
Mr Dwumfour, who has consulted for several reputable organisations in the country as PR consultant, believes his desire for success and professionalism will enable him to perform well in his new role and also help push the vision of the Group Chairman, Nana Amo Tobbin I.
Confirming the appointment, the Chairman of Tobinco Group, Nana Amo Tobbin I, said, "Albert is being moved from a subsidiary of the Tobinco Group to the group level because of his vast knowledge and experience in the media to help push the vision of the group."
"Indeed, we wouldn't have settled on a better person in such a strategic appointment than him at this time as far as media relations of the group are concerned," Nana Tobin added.