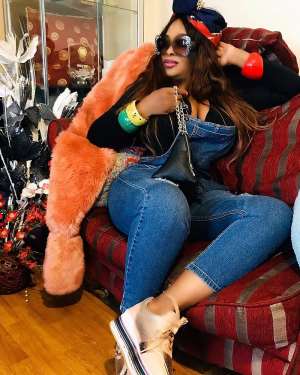 One time most Beautiful Girl in Nigeria and Arut soap Ambassador, Flora Jacobs, might not be making headlines like upcoming models but that does not mean she is not doing fine for herself at her United Kingdom base.
Brandafriq.com recently had a brief chat with Flora Jacobs, who also dabbles as an Engineer, on her latest project as she revealed that she is going into relationship programmes to see how she can help support and build homes.
Read excerpts below;
You recently ventured into relationship programmes, why did you pick that part?
As I informed you earlier, I studied social work and I have experienced working with people who have relationship issues and needs advice and counselling.
Talking about relationships, as an expert in the field, do you think real love still exist?
Yes. Real love do exist. It's by luck finding a real love.
Should parents allow their daughters to live with a man for a period of time for them to know if they marry each other?
We are talking about an adult here. And not a minor! They make their choices.
Why do ladies especially choose to commit suicide after heartbreak compared to the guys?
We know women are very soft when it comes to relationship. This is an accepted assumption and the ladies tend to show that part of weakness in them when relationship does not work out as they had anticipated. Don't get me wrong, this is not a yardstick for suicide.
No matter how much a lady has invested or put into a relationship to work and ends in break up, it's best to take a break for some time to reflect on why it has gone sour. Probably both partners needs a space but this shouldn't be too long.
it's also advisable to move on, if reconciliation is not possible.
How are the guys able to manage heartbreaks compared to ladies?
Men are seen as the stronger ones compare to the women. Guys tend to hide their rejection and cry privately without attracting attention to themselves. Young male has been nurtured from the beginning to remain strong when they are hurt or facing hard existence that life throws at them.
You should know that someone's background and circumstances can play a significant part their development as well as their sensitivity as how they handle eruption.
Money and real love which should come first in a relationship?
Majority will say real love. But how many of the ladies out there are ready to build home with a guy that has no money. The answer is very few ladies. This is why, there are so many single women and men out there.
Money shouldn't come first in a relationship but real love should. You both can start the hustle to attain the success together.
What is the role of parents especially mothers in their children's love life?
The role of a mother cannot be over emphasised. It is the responsibility of both parents to see that, their children get enough advice they need to see them through when they start dating or courting.
Flora Jacobs was the model on First Bank Centenary TV advert which was a hit in the late 90s and she has continued to impact lives in the United Kingdom, through her various charity works.
Instagram: @floraajacobs
Facebook: floraajacobs