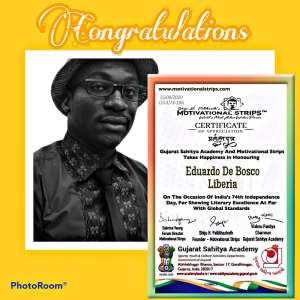 Gujarat Sahitya Akademi, India's Premier literary institution in collaboration with motivational strips, the world's most active writer's forum with over 7 million visitors, awards writers on the occasion of India's 74th independence Day.
This recognition was based on literary excellence, global inclusion, active participation in global literature through motivational strips family, quality and depth of works, prominence of the writer through global search engines such as; google, bing, etc.. and other codes of conducts and criteria in the field.
"Rewards such as awards, and other forms of recognition are in themselves catalyst of growth. They are not signs that we have arrived, but signs that we can offer more to humanity" said Eduardo while Sharing with board members of We write Liberia, a literary and creative arts group in Liberia aimed at promoting creative arts and literature in Liberia with an emphasis in poetry writing.

Eduardo acknowledged Motivational strips, We Write Liberia, Writers Space Africa, and his brothers Salesians of Don Bosco as his key motivators in his writing sojourn thus far.
He as well extended in a special way gratitude to the founder of Motivational Strips Shiju H. Pallithazheth and the Chairman of Gujarat Sahitya Academy, Dr. Vishnu Pandya for the global honour conferred on him as he sees it as a challenge to do more.
Eduardo de Bosco is a young writer by birth named Edward Boateng. He is a Salesian of Don Bosco, a Songwriter, an Activist, and a Poet; whose love for humanity and the values of society is the chief source of his inspiration in poetry. He has written a number of Socio-Politico poems as well as other poems published in international magazines as well as featured in anthologies across the globe.

His works cover the themes of Liberation, colonialism, Reformation, Restoration, Corruption, Preservation, Self-Discovery, Depression, Gender and Domestic Violence, African Culture, Identity, Nature, and Religion.
He spends his free time on Poetry, Music, African Philosophy, History, and writing and he is presently studying philosophy as a Salesian post-novice in Nigeria, as well as carrying on personal research on facts of African cultures, Colonialism, and Liberian History.