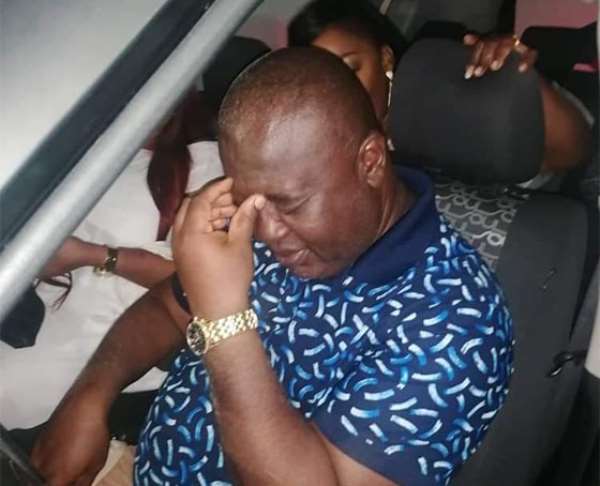 Fredyma tearing up after receiving the car
Veteran actress Maame Dokono and music producer Fred Kyei Mensah were surprised on Saturday when they were presented with a car each at the birthday party of showbiz personality Diamond Appiah.
The two renowned personalities were invited to grace the 33rd birthday of Diamond, only to get called for their surprises.
The gift was Diamond's own way to honour the two celebrated figures for their contributions towards the creative arts industry.
Fredyma shed tears when the KIA SOL vehicles were presented to them.
In a message he shared on Facebook to thank Diamond for her kind gesture, Fredyma detailed his struggles with commuting after he lost everything to a flood years ago.
"For the past five years since I lost my business to the floods of June 3, trotro has been my main form of commuting. Aayalolo bus came to the rescue but didn't last," he disclosed.
"The reason for which I shed tears last Saturday was that, in August last year, 2019, KOD held a fashion show at the Osu Castle Gardens 'Fashion on the Runway'. I was invited to the show and when it was over, I had difficulty in getting transport back home. The Ubers, Bolts and taxis were nowhere to be found. I asked for a ride from a lot and most of them said they were not going my direction.
"It was later around 2:00am when I saw Counselor Lutterodt who happened to be one of the last people to leave the scene. He told me that "Uncle Fred, I am not going your direction but because of you, I will drop you at the Circle interchange so that you pick a car home. He did exactly that and added my transport fare. What a good gesture.
One industry person who told me he was not going my direction was rather at Circle buying noodles when I reached there. When he saw me, he felt ashamed. Let's do good to others. Today, courtesy of Diamond Appiah, I can smile that at least, I can go for an event and return home safely. Good beads don't rattle," he added.
"It was an honour to put a big smile on your face, Uncle Fred Kyei Mensah. You're welcome in my home anytime… Love you," Diamond also said in a Facebook post on Tuesday.
By Francis Addo