Meet Yaw Kwarteng, a Ghanaian gospel stand-up comedian, musician and businessperson, who has set a record in Ghana with 1Million Views on his 30secs comedy dance video on YouTube in just 2 months.
Followed by the recent record, set by the 'Goat' Hitmaker, AY Poyoo in Ghana, who not long ago also got 1Million views on his official Goat music Video in a month, Yaw Kwarteng also stands to be the 2nd ever person in Ghana to set another record straight.
The 30 Seconds video shows the comedian dancing hilariously in an 'Atopa' style to a Pentecostal praise tune played live at his close friend's wedding ceremony, which was held some few months back before the pandemic.
It captured him dancing strangely in an 'Atopa' dance moves right in front of the bride and the groom, when the wedding service was still on going at the church premises.
The video, shot in February by a friend, later went viral on various social media platforms including other African entertainment online News portals.
Three months after viral, Yaw decided to then upload it on his YouTube channel which was yet building its followers and viewers.
Right after the day of upload, the video has now reached 1Million views and still counting in just 2 Months.
"It was just a wedding and I decided to dance my heart out and a friend of mine took some shots of my moves. It just went viral for three months, until I then decided to upload it also on my YouTube channel", he said in Up-close Exclusive Interview Show with Skbeatz Records.
The 30 Secs video with the title "When your Ex-boyfriend attends your wedding & He find out that he is better than your husband", reached 1Million views on July 26, monitored by YouTuber and social media publicist, Skbeatz Records.
Yaw Kwarteng has featured in Ghana's 'Kejetia and Mokola' court Tv series and has also appeared in the recent 'What don't you know' show by Liezer-Legacy Productions.
In an exclusive interview with Skbeatz Records, Yaw Kwarteng shares more facts about himself and how his video reached 1 Million views.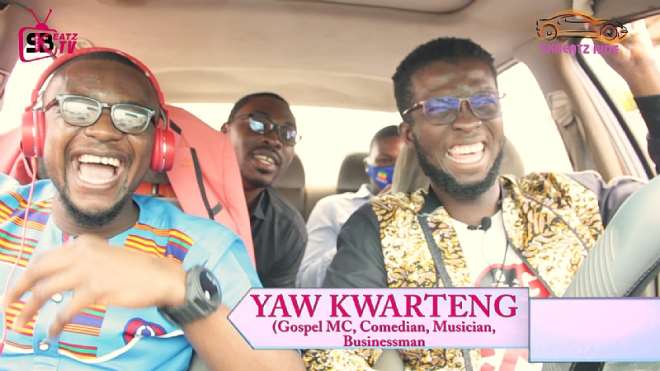 Yaw Kwarteng And Skbeatz Records On A Ride