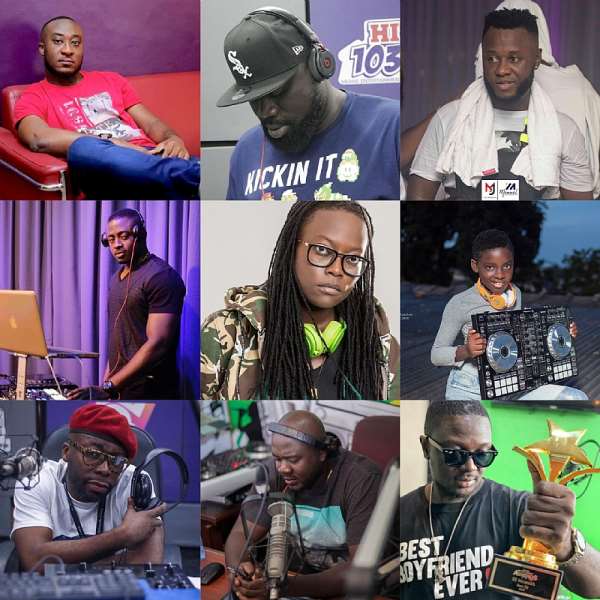 Ghana aside football, gold and cocoa is well known on the international stage for her music. There are so many talented musicians in Ghana with some of them making a huge impact on the African continent.
In recent times, top Ghanaian acts like Sarkodie, Shatta Wale and Stonebwoy have gone beyond the shores of Africa to do musical collaborations with big American stars like Ace Hood, Beyonce and Keri Hilson respectively.
Though it is an established fact that musicians are loved by their fans, the main architects who sell and make Ghanaian music attractive to Ghanaians and the rest of the world are the talented Disc Jockeys (DJs) on our airwaves, in our night clubs and at public musical concerts and events.
Disc Jockeying is still an underrated profession not only in Ghana but across Africa, however there are some great personalities in this country who have been able to perfect their craft and successfully branded themselves as top DJs with massive following, making a huge impact in the entertainment industry.
In this article, I have reviewed the 12 popular and most wanted DJs who are making a big statement in Ghana's music industry.
1. DJ Vyrusky
He is currently Ghana's most popular DJ after winning several awards in his career including 2017 Best DJ of the Year at the Ghana DJ Awards and 2020 DJ of the Year at the 3Music Awards held in Accra.
He has worked for former Lynx Entertainment act, Mzvee as her official DJ and is currently the artiste DJ for Ghana's most influential Dancehall artiste, Shatta Wale.

2. DJ Black
Some years ago, he was the only DJ in Ghana with an enviable brand.
DJ Black is admired by many for his unique voice and style of presenting music at public events. He has won Best DJ of the Year at the Ghana DJ Awards four years in a row starting from 2013. In May 2012, he was appointed as Social Media Ambassador for DSTV Ghana.

3. DJ Mensah
He is the official artiste DJ for Africa's most decorated rapper, Sarkodie.
In 2017, he was awarded for Best DJ at the Ghana Entertainment Awards in the United States. He is also known for public UK events like 'December in Ghana' and 'Party in the Park'.
Every year DJ Mensah hosts a star studded party in Ghana dubbed 'DJ Mensah All White Party' where he thrills party lovers with non-stop Ghanaian music.

4. Vision DJ
He is an award-winning radio, club and event disc jockey. Since 2009, Vision DJ has worked as the in-house DJ for Y 107.9 FM's flagship show, 'Ryse n Shyne'.
He has won 3 awards at the Ghana DJ Awards including an award for Best Night Club DJ of the Year in 2018.

5. Andy Dosty
He is a veteran DJ and radio personality currently working as the host of Daybreak Hitz on Hitz FM in Accra.
He has an enviable radio career with over 20 years experience. In 2019, he received an award as Radio Personality of the Year at the National Communications Awards.

6. DJ Mic Smith
He has worked for urban radio stations; Y 107.9FM and Live 91.9FM all in Accra, Ghana.
He signed to BBnZ, a renowned record label in Ghana for 3 years and worked as the official DJ for the label's top artiste, EL. In 2017, he won Best Night Club DJ at the Rush Ghana DJ Awards.

7. DJ Xpliph
He is widely known in Ghana for his highly rated show, Rhythmz Live VJ Mix on GhOne TV.
He is considered by many as one of the best Video Jockeys (VJs) in the country after winning the Best Video Jockey at the Ghana DJ Awards in 2015 and 2016.

8. DJ Kess
She is arguably the best female DJ in Ghana currently. She even won Best Female DJ at the Ghana DJ Awards in 2013 and 2014.
In 2013, she was nominated for the Best Female DJ at the African Global DJ Awards in Johannesburg, South Africa. She currently works with Y 107.9 FM in Accra.

9. DJ Switch
She is the biggest Disc Jockeying sensation to hit Ghana in recent times.
She is well known globally as one of the youngest female DJs in the world. Her career took off when she won the TV3 reality program, Talented Kidz in 2017 at age 8.
In 2019, she became the youngest person to win DJ of the Year at the Ghana DJ Awards.

10. DJ Slim
He is the most talked about radio DJ in Kumasi, in the Ashanti Region of Ghana.
In 2018, he was nominated at the AFRIMMAs for Best African DJ Award. Interestingly he was the only Ghanaian in that category.
He hosts an entertainment public festival annually in Kumasi dubbed, 'The DJ Slim Invasion'. He currently works at Pure 95.7 FM where he has built a cult following for his radio shows.

11. DJ Kaxtro
He is another big name when it comes to radio and club Disc Jockeying in Kumasi, Ghana. In 2017, he won the Best DJ in Ashanti Region at the Ghana DJ Awards.
He currently works with Ultimate 106.9 FM in Kumasi, a subsidiary of EIB Networks.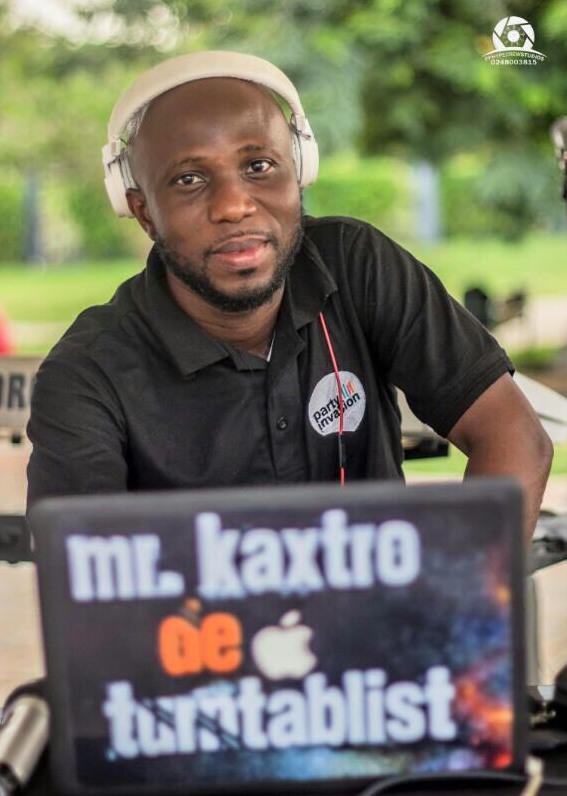 12. DJ Aroma
The newest sensation in Disc Jockeying in Kumasi is this young champ. He is gradually becoming a huge figure on the radio waves in Ashanti Region.
In 2019, he won the Best DJ in Ashanti Region at the Ghana DJ Awards and also got nominated for the overall Best DJ of the Year category for the same event.

By: Eben Owurachy