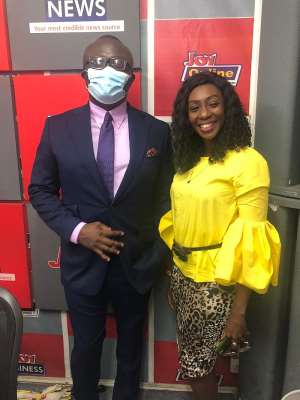 The Chief Executive Officer of the EIB Network Nathan Kwabena Anokye Adisi popularly known as Bola Ray together with some of his team members joined the 'Queen of the Airwaves' Doreen Andoh of Multimedia Group specifically Joy FM to celebrate her silver jubilee thus 25years of active Radio.
Bola Ray who was also a member of the Joy FM crew until he resigned and started with Starr 103.5 FM in the year 2014 was clearly happy for Doreen Andoh for been able to survive the hurdles and challenges associated with Media work in Ghana.
There was joy all over as her old and new workplace colleagues came together to congratulate her and wish her well for the days ahead as a media practitioner.
Doreen Andoh joined the Multimedia group in 1995 and has since brought cheers and soothing programmes to listeners which has earned the station some number of constant listeners and followers.
She has a unique presentation style and voice which usually blends the rhythms of music to soothe her listeners.