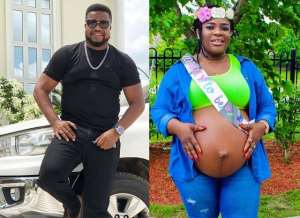 Brown Igboegwu & Becky Udoka
Nollywood actor Brown Igboegwu has revealed that he and his wife Becky Udoka used to be ridiculed because of their inability to have a child.
But thanks to God, they have finally welcomed their first child after 10 years of marriage.
The actor disclosed this on Instagram Wednesday morning when he announced the birth of his baby girl.
According to him, he was not only mocked but was even advised to take another wife or get another woman pregnant, but he turned deaf ears to the advice and waited on God.
He added that they criticised his wife, saying "all these Asaba girls who know what they have done that they can't conceive."
"You can imagine how I felt all these while hearing all these from both people who feel my pain and those who mock me. I silently took it to God in prayer and today, my wife and I have reason to say thank you Lord. All I have to say is thank you, Lord. I have no prayer points anymore," he indicated.