The Lost-And-Found Ghana Movie Industry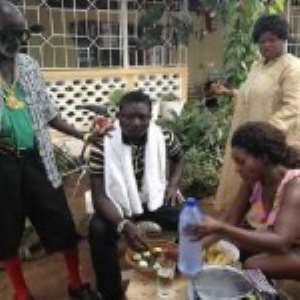 Alakpator! Don't be so carried away by the title of this article. Let me serve you the fufuo before you empty the earthenware full of soup down your throat. You know the fufuo and soup are inseparable; you can't consume one before the other is served, so hold on. Wait for it!
You see, Alakpator when I describe the Chanaian movie industry as lost and found, I mean the 'thing nu' is missing and someone else has come by it and made it theirs. If you still don't understand what I mean, why don't you read what a brother and journalist, Edmund Okai wrote on his Facebook page yesterday;
"Ghana, we are sick as a country. No wonder the current kids have lost their moral values. We grew up watching Akan Drama, By the fire side, Kyekye Kule, Fun World World, Adult Education, Kwasasa, Toddlers time etc. Now every TV station you will switch to they are showing Indian Telenovela. India foɔ bi aa ɔmo awi cigarette ama ɔmo se nyinaa ashe. What is the sense in those telenovelas? We are finished as a country."
I know, I know that he was a bit harsh in some of the expressions but Alakpator, let's sieve out the strong words and focus a bit more on the main substance.
Look, Alakpator I have spend a lot more time at home since the lockdown and I still am, and through that, I have spent lots of time watching our free-to-air TV since the onset of the stay-at-home order up to a point; now I am tired. Alakpator, I know you have not subscribed to nexflix so you also watch GTV, TV3, UTV and the other komininis.
What do you have to say about the media content? I have done a cursory observation of the landscape and I am inclined to agree with Edmund.
Alakpator, can you recommend a Ghana-made movie production for children on free-to-air TV? What are your children watching on TV these days? Do you not get worried anytime it was time for the children to watch TV? Do you not have to sit around to 'censor' some of the contents and redirect their focus from time to time? How many parents can be around to do the same? Again, do the children engage in conversations about some local productions, perhaps an actor or actress that caught their fancy; do they model any?
It is unfortunate that as we speak, what is trending is for the media to televise cheap soap opera from South America and Asia with stories of the same plots and its accompanied culture misfit portrayals.
Alakpator, remember when we had a debate in 2010 about the pros and cons of digital migration, remember? During our days at GIJ? When we argued that Ghana was not prepared to meet the 2015 deadline for the media to go digital? How can you forget that, Alakpator? When our colleagues on the other side vividly raised the point in support of the proliferation of TV and radio stations; that audience will be spoilt with so much options and that media homes that are not up to the task will be forced to up the game. You recall how we countered this submission?
We agreed there will be lots of TV and radio stations springing up with the compression of the bandwidth; and we asked if we have the financial muscles to fill them up with good contents? Local, not foreign contents? Do we have a strong entertainment industry to feed these outlets? What about sports, apart from our already weak football league? And we summed up our submissions when you said, this was going to be another avenue to colonise us because the media would have to rely heavily on productions from outside the country. And rightly so, more recently, some parents are beginning to name their children after their favorite actors in the south American and Asia soap opera; and just probably, in the next 5 to 10 years we are likely to hear more Ghanaian children responding to names such as Rodriguez, Guadalupe, Alejandro, Margarita and so on.
We accept Nollywood quite well because we share some parallel culture; in fact, we have some Ghanaian actors and actresses in some of their movies. However, by pursuing this path, we will forever lose not only our businesses in the big markets but also in the entertainment industry and by extension our sense of identity.
Alakpator, do you now understand when I say the movie industry in Ghana is a lost-and-found one? Because as we lose the industry, it is being found by someone else to our detriment.
Francis Sanusi
Columnist
Development Communication Student @ GIJ
An Entrepreneur and School Teacher