Coronavirus: Kakum National Park Closed Down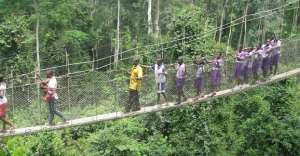 Kakum National Park, one of Ghana's major tourism sites, has closed to tourists until further notice.
The Executive Director of Ghana Heritage Conservation Trust, Isadore Armah, in a statement available to NEWS-ONE said the decision was due to the outbreak of the coronavirus (COVID-19) in the country and around the globe.
"The Board of Trustees of the Ghana Heritage Conservation Trust (GHCT) and the management of the Wildlife Division of the Forestry Commission of Ghana have agreed to temporarily close the Kakum National Park to tourists until further notice," the statement disclosed.
"This is due to the increase and rapid spread of coronavirus (COVID-19) globally. The situation has necessitated the precautionary measure to protect the staff, tourists and communities surrounding the park," it added.
The Kakum National Park is one of Ghana's major attractions, located in the Central Region of Ghana, about 20 kilometres north of Cape Coast. It covers 360 square kilometres of Ghana's rainforest.
It is both a national park and resource reserve. Trees there are exceptionally high with some reaching 65 metres. The reserve has a varied wildlife with some 40 species of larger mammals, including elephants, bongo, red riverhog, seven primates and four squirrels. Bird life is also varied. It has a canopy walkway over seven bridges and tree tops at 30 m (100 ft) height.
Kakum National Park is basically a home for nature lovers. It serves a number of tourists annually, with a large number of the tourists being foreign nationals.
The suspension of its activities at the park is in line with directives by the government and Central Regional Health Directorate to avoid crowded areas as part of safety measures to curb the spread of coronavirus.
---Daily Guide