Kofi B's Death: Dead Celebrities Don't Need Your Youtube Subscription — Says Ghana Lucifer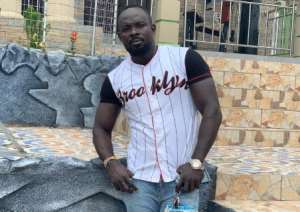 There is an ugly culture in our society and largely in the Ghanaian entertainment industry which unchecked, could dampen the spirit, enthusiasm and zeal of up-coming celebrities - the culture of worshipping the dead. Unfortunately, I don't see anybody addressing this dangerous phenomenon which has already reared its ugly head in our various societal lives, more especially in our entertainment industry.
As a budding actor doubling as a comedian, Yaw Asonaba, known in the showbiz industry as Ghana Lucifer, I am taking this opportunity to draw to the attention of fans, followers, subscribers and sympathizers of this phenomenon. The following instances corroborate the point I am making:
Castro was a musician who hit the airwaves. He did a lot with the microphone. Unfortunately he didn't last as every fan would wish. However, Castro's song with Sarkodie, dubbed "Adonai" had the highest following after he died. Per my checks, it is the song with the highest following on the site. The question is, what happened when he was alive? I think he needed that support when he was alive to motivate him do more. The high ranking or subscription on his YouTube now that he is not of this world serves no purpose because he cannot feel the effects of it. Support the living by subscribing to their YouTube channels and allow the dead to rest on because the dead has nothing to offer on the YouTube channel again. Unless we want them to upload something from the graveyard, which is in fact not possible.
Again, Ebony hits the airwaves with her style of singing. A lot of Ghanaians bemoaned how she sang. Some insulted her openly and others did silently for her style of singing. While I don't have the strength to judge her for her style of singing, I want to discuss what happened to her before and after her demise. Like I have alluded to, Ebony suffered verbal abuse from cross section of the Ghanaian people. Her videos and songs were not followed on YouTube. Her YouTube subscription was lower as juxtaposed with that of after her demise. Per my checks, her videos on YouTube keep on receiving viewers and followers, her YouTube channel is getting subscription day in and day out. What is the meaning of this? The dead Ebony who was judged and insulted is getting more and more subscription after she died? Are we expecting her to release songs from the cemetery? We should use that energy to subscribe to the YouTube channels of the living to help them do more in the entertainment/ Music Industry.
Just recently another Celebrity, Kofi B., has fallen to death. Before the demise of Kofi B., his YouTube channel had a subscription of 1.2k. Surprisingly, just after his demise, Kofi B. has had about 1.46k subscribers. His videos and audios posted on PremierGh keep on receiving more and more viewers and subscribers after he died. What has happened? Will the new subscription resurrect Kofi B.? Will that give Kofi B. the power to upload videos and songs onto the YouTube channel? The answer is, NO! He is dead and gone. Doing what we didn't do for him while he lived, does not have any effect now. Let's channel that energy, time and resources on the living and allow the dead to rest in peace.
These are few of the many instances that have informed and necessitated my effort to put this before the Ghanaian people. As a budding actor doubling as a comedian in the Ghanaian showbiz industry, the name I bring to the table is Ghana Lucifer. The name may sound bizarre, but I am neither evil nor a criminal person. I am bringing to the attention of my fans how Lucifer (the devil) operates. I am creating awareness of the work of the devil. Subscribe to my YouTube channel and watch the short series of the Ghana Lucifer and be wary of the Lucifer.
In the final analysis, all that I am bringing onto the table is simple. Support people who have ideas to do something while they live. Most often, we insult people who have ideas to do something and the same people would turn round and speak highly of the same person after he/she is dead. When somebody starts to bring an idea to fruition, let's support and encourage the person by subscribing and following his/ her YouTube channel. This would make them feel the need to do extra more to make the fans happy and stay lively. But when we don't do any of these until the person dies, all that we do and say in favor of such a dead person is meaningless. It would serve no purpose than to rather dampen the spirit and enthusiasm of the budding ones.
This is my submission. Thank.
Yaw Asonaba
(Ghana Lucifer)