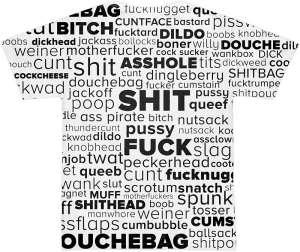 The answer to this question is simply glaring and obviously crystal as glass, as to who wins. But it does not seem to be as simply glaring and obviously crystal as glass to those musicians who keep 'SWEARING' in their songs.
'SWAERING' in music by musicians who thought it is fun to do so, is rather not. In as much as music is about the art of expressions. It is rather wise to edit the one that would end up or down within the public domain.
'SWEARING' in a song is simply Despicable, Disrespectful, Unpalatable, Disgusting, Distasteful and Unthinkable.
So some musicians should take not, due to the duty of care with regards to their various and numerous fan base, not forgetting the young children as well.
Bury your heads in shame if you know some of these words could be found in any shape or form in any one of your song or songs as a musician.
And how would you feel as a musician, if your music cannot be played in the public place or space, given its toxic and venomous nature and tastes? Instead, your song would be put to the back burner by some DJs and radio presenters who know better.
In a case like that, your music would be played or heard in isolation rather than in the public sphere. If so, who loses when you 'SWEAR' in your song then?
The likes of Daddy Lumba, Pat Thomas, Gyedu Blay Ambolley, Nana Tuffour, Charles Amoah, Nana Amakye Dede and the rest have all done successfully well without the usage of these nasty words.
Out of all the tens, hundreds, thousands, millions and of course billions of words at our disposal, why should some musicians have the appetite for misplacing 'SWEAR' words such as FUCK, BITCH, NIGGER, COCK, DICK, PUSSY and the rest.
If you are copying other musicians as a musician, then you might as well copy well. Just because one might have heard of a certain musician swearing in their songs should not mean they are setting the right example.
Because you do not know if they have made the edited version or the radio and television friendly ones rapidly available to DJs, Bloggers, V-loggers and journalists for extensive and expansive promotion.
So if you keep swearing in your music, forgetting that it needs maximum promotion by the aforementioned agents of music promotions, how on earth, do you expect these agents to go edit your swear words before playing your song for promotion?
Do not forget that, the DJ, VJ, or any of the agents of music promotions are only doing you the musician a great favour for free of charge.
If so, then why do you the musicians want to make the work of some DJS and radio presenters, as hectic as if they (DJS and radio presenters) have been paid to edit those swear words on your (Musicians) behalf..
It is just a matter of fact that, some, if not, most musicians who swear in their songs do not see the harm they do to themselves and their music.
This is because, some DJs do not even give those songs a look in their CD bags, let alone a chance on the radio. Who is winning and who is losing?
Who Wins When You 'Swear' In Your Song As A Musician? Do you really and really care as a musician?
Just imagine, if your song is radio friendly, it could be played or listened to anywhere and at any given time. And anywhere simply means, it does not matter which kind of environment the music is being played or listened to.
Whether there are children around or not. And do not forget that the unedited version of the song can only be played in isolation in the bedroom or night clubs, whereas the edited version could be played almost everywhere.
Frankly speaking, all musicians need some sort of promotion in order for their music to be heard or known in the popular corners of the world, be it in America, Asia, Africa, Australia, or the Antarctica.
There is a certain rapport between musicians and their various fans and the buyer or listener of that particular music.
And that rapport is arguably earned through the respect and/or the hard work of that particular musician in question.
So, if that be the case, then why should a musician 'SWEAR' in their song to disrupt, disconnect and diffuse that rapport in question?
If you 'SWEAR' in your music, what value do you put on your toil and hustle of composing the song?
Some musicians should show the world that, there are far more positive words in the world than the 'SWEARING' words that some musicians have gravitated and adapted to their music.
BY WILFRED CLARKE.