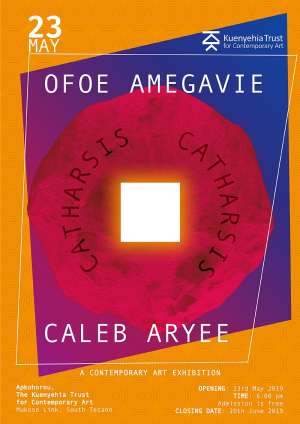 The Kuenyehia Trust for Contemporary Art officially launches its new space with pop-up exhibition by Daniel Ofoe Amegavie and Caleb Odartey.
In 2019, The Kuenyehia Trust for Contemporary Art, supported by the MTN Foundation Ghana, wishes to continue its efforts in supporting the shortlisted artists of the 2018 Kuenyehia Prize for Contemporary Arts through 4 exhibitions dubbed "Carthasis".
Ofoe Amegavie and Caleb Aryee will inaugurate this cycle of exhibitions with "Carthasis I" - a photo exhibition. The selected works by the two Accra based photographers tackle four deeply intertwined topics: spirituality, mental health, domestic violence and identity.
Ofoe's oeuvre explores spirituality as a way to reconcile his mother's past struggle with mental health with his present self in the hope of building his own independent identity. His black and white series portray women, with the absence of colours used as an analogy to his state of mind at the time.
While the very topical issues of violence and more specifically domestic abuse are the central themes of Caleb Aryee's body of work. His graphic pictures are meant to trigger discomfort and question the viewers and everyone who contributes to the perpetuation of this despicable behaviour.
This exhibition will also be the opportunity to inaugurate the new Kuenyehia Trust's headquarters and officially introduce the Trust's Managing Trustee.
Exhibition Details Artists: Caleb Aryee Odartey, Daniel Ofoe Amegavie
Title: Catharsis 1 Dates: 23 May - 20 July 2019 Address: No.20 Mukose Link, South Tesano. Google Maps: https://tinyurl.com/y2g82m8n
Opening Times: Mon-Fri 9am - 5pm Admission: Free