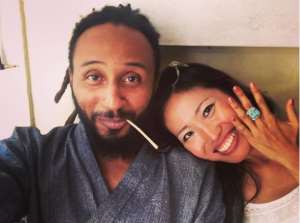 Stress is a feeling of emotional or physical tension which happens to every individual. We all have different ways of dealing with this feeling when it occurs.
However, Ghana-Romanian Afro-pop musician, Emmanuel Owusu Bonsu, popularly known in the music scene as Wanluv Kubolor, in revealing what he does when he is stressed said he engages in a sex act with some female friends.
He disclosed this in an interview with Abeiku Santana on his 'Atuu' show.
'I have some friends that I engage in sex with, we call it sexy-exercise, we do that to release stress,' he disclosed.
Describing the act as 'sexy exercise', Wanluv who has eight children, explained that some of the women sleep over after their sexual bouts, whiles others also go to their homes after the sex.
The 'My Toto' singer on the show also revealed he was formerly the driver of the founder Royal House Chapel International, Rev. Sam Kranchie Ankrah when he was a born-again Christian.
According to him, he is father was a good friend of the man of God and mostly ordered him to drive Sam Kranchie Ankrah around.
When asked whether he attends church, he answered he will only attend when there are a lot of ladies in the church.
"I have been a born-again Christian before. I used to attend Sam Kranchie Ankrah's church. I drove him a couple of times when the church was formerly called International Bible Worship Centre," he disclosed.
Kubolor has songs like 'Kokonsa', 'My Skin', 'Smallest Time', 'Never Die', 'African Gipsy' amongst others to his credit.
He explained that though the kind of music he does is not lucrative, he acquires money from music shows, talks, videos and royalties from abroad.