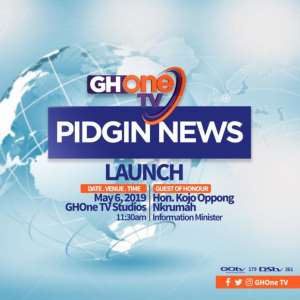 GHOne Pidgin News Logo
GhOne Television will on May 6 begin news broadcast in Pidgin, the first of its kind in Ghana.
The latest addition to the station's news programming is aimed at expanding its reach among its inner-city audiences in West Africa, with social media playing a crucial role.
This was disclosed in a statement signed and issued by the News Editor of GHOne TV, Nana Aba Anamoah.
"Pidgin is one of the most widely spoken languages across West Africa, even though it is not officially recognized. More often than not, the news media excludes a whole section of society from credible and verifiable information simply because of how it is packaged, leaving non- Standard English speakers who form an appreciable part of our population to fall prey to poor sources.
"There is also no gainsaying the fact that considerable misinformation has been circulated about Ghanaian Pidgin English. Some Ghanaians attribute the worsening Standard English to the emergence of Ghanaian Pidgin English BUT we at GHOne TV are convinced that the Ghanaian Pidgin English is serving a very important purpose, which many critics overlook. It serves as an important medium of communication," the statement mentioned.
The programme, according to the statement, will be a unique Monday to Friday Pidgin News Update and a half hour broadcast on Sundays.
"We would like to assure our cherished and loyal viewers that though in Pidgin, our characteristic in-depth reporting, analysis, hard-hitting interviews and discussions around the issues that matter to them will not be compromised," the statement added.