US Ambassador Storms YOLO Season 5 Premiere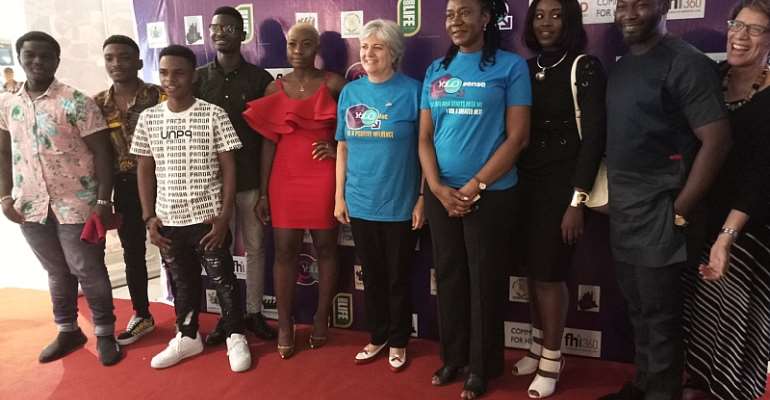 "It's a great pleasure to be here at the fifth season premiere of 'You Only Live Once,' or YOLO. I don't have to tell you that this is one of Ghana's most popular shows. But I'm particularly proud of the fact that it's also an amazing example of the commitment of the United States and Ghana share to improving the health and well-being of the world's greatest resource -our youth."
The United States Ambassador to Ghana, Stephanie S. Sullivan said this at the well-attended premiering of Season 5 of the YOLO television series on May 1 at the Silverbird Cinemas, West Hills Mall, Accra.
Addressing the audience, she noted that over 50% of Ghanaians are under age 25 with evidence that this age group do not have ready access to health information and services, including sexual and reproductive health.
To close that information gap, the US Ambassador indicated that the United States Government, through Agency for International Development (USAID) teamed up with the Ghana Health Service to develop and launch the "Good Life, Live it Well campaign.
Using both traditional and digital media, Stephanie S. Sullivan noted that the campaign promotes positive healthy behaviours including reproductive health, malaria prevention, and nutrition.
"The campaign also encourages self-reflection about what makes life "good" and links personal happiness and the 'good life' to healthy behaviours," she intimated.
According to her, the award-winning YOLO has not only provided a platform to reach young people with key information on healthy behaviours and practices but also helped to shape the actors to become reproductive health ambassadors.
She added that the show's stars serve as peer educators and role models, and promote healthy lifestyles to their numerous young social media followers.
The US Ambassador believes that youth participation and leadership is vital to development and can contribute to more sustainable investments to end cycles of poverty, build resilient, democratic societies, improve health and nutrition outcomes, and strengthen economies.
"That is why the United States has supported behaviour change activities in for over 20 years, encouraging Ghanaians, including young people in particular to make positive changes, so that - even though "You Only Live Once," that life will be the best it can be," she stressed.
One of the YOLO stars, Danso Sakyi known as King George said exactly 4years, 5months and 11 days ago, a team of determined creatives and stakeholders made possible what would become the most watched Ghanaian television serial of all time.
He posited that the YOLO stands as the most anticipated, most educative and the most celebrated Ghanaian TV show.
King George indicated that the tv show has impacted lives positively, created positive role models, educated its audience and entertained the masses.
He said it has employed the use of peripheral and central routes of persuasion through creative communication, to produce iconic viral edutainment moments which would live forever.
"This show's name has become culturally situated and a call to action amongst the youthful demography - at the chant of YOLO, one is reminded to live well and right!" he emphasised.
The YOLO TV series was launched in 2015 by the National Population Council with the aim to educate youth on healthy reproductive behaviour and equip them with skills to deal with peer pressure and the other challenges that affect their everyday lives.
The series has millions of viewers in Ghana and around the world including Nigeria, the United Kingdom, and the United States.