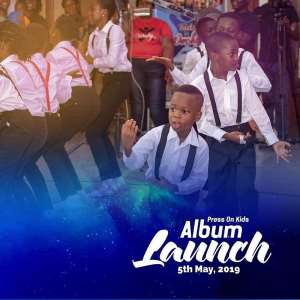 Press On Kids
Come Sunday, May 5, the World Changers' Faith Ministry in Accra will witness a double Album Release by Press on Kids music group.
The double album dubbed 'Sing The World Vol. 2 and Hymns We Love' has been prepared for years to signify the glorious nature of God.
The Mega Album Launch would be graced by a number of personalities from the gospel music industry, Christian leaders, gospel music fans, friends and family members of the Press On Kids group.
Some of the gospel musicians billed to perform at the launch alongside the Press On Kids Choir are World Changers' Faith Ministry and a host of others.
The launch promises to be nothing but a day of quality live music performance and excitement.
In a chat, Executive Director of 'Press On Kids', Mr Worlanyo Afenyo expressed the hope that the album would touch the hearts of many Christians and help them to have breakthroughs in their lives.
He explained that the new album contains comforting messages to those afflicted by different challenges, thereby, giving hope to the hopeless.
The Press on Kids latest album, according to him, has come at the right time to change the trend of the gospel music industry.
'Press On Kids', he explains is an inter-denominational group of children who sing gospel by "putting a picture to the song" which involved taking memory verses and composing them into music for easy memorization and recollection of scripture.