Bill Asamoah's Appointment Can't Silence Him – Nana Frimpong Ziga Tells Catherine Afeku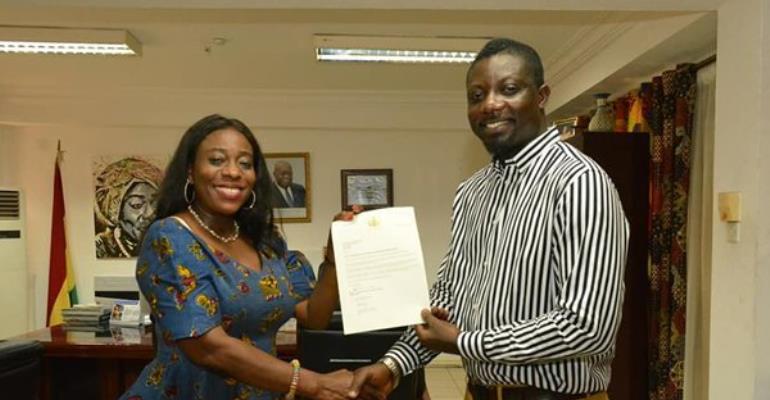 The creative arts industry in Ghana is yet to experience any significant progress despite the efforts of the tourism minister.
Somewhere in September, 2017, Madam Catherine Ablema Afeku, the Minister of Tourism, Arts and Culture together with executives from Ghana Tourism Authority and the government at an august ceremony in the Northern Region of Ghana, unveiled about 30 tourism ambassadors with the hope of putting ideas together to push the creative arts sector to the apogee level.
"A year is past but the state of the tourism sector remains the same with no significant progress. Logically, this presupposes that majority of the tourism ambassadors couldn't live up to expectation. However and despite the fact that the already appointed ambassadors have failed the sector, Madam Catherine Afeku keeps doubling the ambassadorial numbers.
Looking at 2017 and 2018, only 10 of the tourism ambassadors have submitted their projects but the approval dates remains a mystery till today. So, why should the minister go on and appoint another ambassador in the person of Bill Asamoah?" Nana Frimpong Ziga quizzed in the studios of Kessben 93.3 FM.
Kumawood actor Bill Asamoah was recently appointed as tourism ambassador to add up to the existing failed ambassadors. So, it's not surprising that Bill's appointment has received mixed reactions as some pundits in the sector are convinced beyond doubt that Bill Asamoah doesn't qualify for the spot.
However, Nana Frimpong Ziga, a highly opinionated showbiz critic, thinks otherwise. Ziga who is also an integral member of Creative Arts for Development & Action believes that Bill Asamoah's appointment is on point but it can't mute him in any way as supposed by others.
Speaking in the studios of Kessben FM in Kumasi, Ziga stated that Bill Asamoah is well-known as someone who is just and vociferous hence his ambassadorial appointment, which can't influence his willingness and desire to push or otherwise lobby for progress of Kumasi Creative Arts sector.