"I am a messenger on mission to Inspire the World"- Titan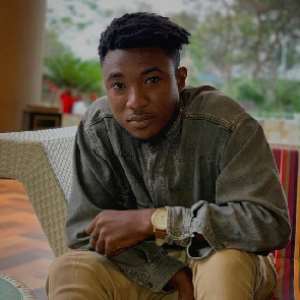 Ghanaian versatile artiste Ernest Adu-Gyamfi known in the music industry as Titan has cautioned his fellow artiste and music lovers to not only look out for songs with beats but pay attention to the message they are sending out to the general public.
Titan mentioned in an interview that he is a messenger on a mission to touch on delicate issues affecting the society.
"I am a messenger. I am beyond religion, language and other such barriers. My music is more than just words and melodies on a beat, it's a message to my people who may be going through some issues at that very moment." He said.
Titan who started his music in church by playing the keyboard, said he always wanted a platform to express himself and music is the only craft that gives him that space.
The artiste said he does take pride on versatility, "I want to treat the music market to good music that goes beyond beats, music with a message...If we will move on as a people, we need to be cautious about what we consume and condone."
He has worked with producers like Paq, Tbeat of DopeNation, Uglybeat and some other talented producers. Titan looks up to some great acts in Ghana worthy of emulation, like Shatta Wale, Stonebwoy, Samini, Sarkodie and to even some rising artiste.
He said he gets his inspiration from nature, daily happenings, anything at all can trigger great music depending on his mood, he revealed. Titan is very keen on addressing pressing issues in Ghana.
Titan has a released a song dubbed 'Over you' which he featured two great crew from Ground up Chale, Quamina MP and Kofi Mole ,"This new one paints a more comic side of me, the song is actually an experience I had. The title 'Over You' means you can't handle it as in if you take my woman from me because of her beauty you'll not be able to handle her flaws". He added.
In as much we love dancing to songs it is also very important that Artiste pay attention to the lyrics of the songs so that it does not only keep us on our feet but also inspire.