"I have Learnt My Lesson About Flaunting My Relationship on Social Media" - Efia Odo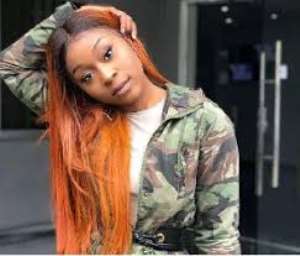 It is a very common trend to see celebrity couples flaunt their relationship on social media. The likes of Okyeame Kwame, Becca, Mercy Johnson, and many others are constantly praising and sharing photos of themselves on the various social media platforms. While some prefer to keep things private others don't see anything wrong in flaunting them. While some benefited a lot from flaunting their partners on social media, the same cannot be said about Efia Odo who got dumped by her boyfriend recently.
Speaking on Accra-based Okay FM, Andrea Owudu popularly known as Efia Odo has finally come to terms about posting her relationship status on social media. The beautiful damsel who hails from Juaben, in the Ashanti region has grown her fan base from the sexy and raunchy photos she posts on her social media platform.
Despite disagreeing with Delay that her relationship with Revloe came to an end as a result of her constantly posting it on her social media handles, the bubbly actress seem to have had a change of mind regarding that.
She advise ladies to put their relationship away from social media. She noted that Ghana is different from the United States and therefore should have known the cutural differences before taking such a step.
Efio Odo has realized her mistake for flaunting her relationship with Revloe which was a contributing factor to why it failed.