" There is no respect in the music industry" - Oheneba Kissi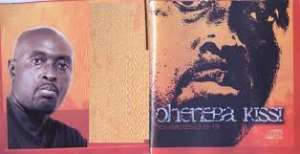 Ever since he caused a stir on the music scene with his album Suzie in 1990, Oheneba Kissi has consistently released a new album almost every other year without relenting, to the admiration of his teeming fans.
A year after the release of Suzie he followed it with Ebeye Yie, the next year and Anibre the following year.
The highlife singer Oheneba Kissi in a recent interview has revealed that there is no respect in the music industry and that's why the young musicians are sampling songs most of the time.
Speaking with Amansan Krakye on Radio Central, the high life legend explained the process one has to go through before he or she can take an excerpt from a song.
"It's worrying. If it's abroad there is respect. We call it cover version. One can use the whole song but you will be notified with a letter that your song want to be used. With that you can tell the person that you can use the song but you can't transfer the copyright to your kids because I have it. Even 70 years after my death my children will still have the copyright of my songs so you can't use it. This kind of arrangement is not working in Ghana but we are trying. It's not best to do that knowing the song belongs to someone and it's his right. It will be worrying if you say you will take them to court". He said.
Music sampling has now become rampant among the young musicians who are making waves in Ghana now. The likes of Kuami Eugene, Joey B, KiDi, King Promise, and Kelvyn Boy among others have all taken a line or two from songs of legends like Kojo Antwi, Daddy Lumba, Rex Omar, Daasebre Gyamenah and the rest.
That notwithstanding, Oheneba Kissi implores upcoming musicians to be more creative in bringing originality to the music scene.