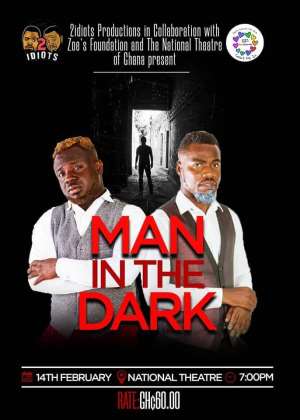 2Idiots Production is back with another thrilling romantic stage comedy, "MAN IN THE DARK", this February at the National Theatre.
A successful business man finds out the woman he had an extramarital affair with in his past happens to be his pregnant wife's best friend. Now, everything he has worked and toiled for all his life for is now dependent on this secret he is keeping from his wife. He is threatened to divorce his wife else… the secret will be told her. He decides to get rid of this skeleton in his closet by having his best friend rape his wife.
When darkness consumes us, it kills our humanity and leaves us heartless.
The quality of the performers involved makes it obvious 2Idiots are bent on serving their patrons with an excellent art piece. This follows their highly successful play, Love is Politics, which was put up by the sensational comedic duo last year.
In partnership with the National Theatre, Man In The Dark is directed by Solomon Fixon Owoo and Daniel Kojo Delong and features Jeneral Ntatia, Dr. So, the prolific stage queen Pearl Korkor Darkey, the legendary African poet Sir Black and the beautiful Beverley Afaglo. This happens to be Sir Black and Beverly Afaglo's debut stage production.
The rate is GHC60 only and it is happening at the National Theatre on Valentine's Day, Thursday, 14th February, 2019 at 7pm.