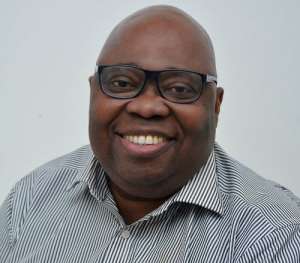 Kwame Adinkra
Kwame Adinkra has joined Angel Broadcasting Network (ABN) as Chief Operating Officer (COO).
Additionally, he is to assume the position of a business development manager at the Kumasi-based Pure FM, as well as be its morning show host.
Before joining ABN, Mr. Adinkra was the host of Abusua FM's Morning Show.
The 2015 best morning show host at the Radio and Television Personality Awards (RTP) brings on board two decades of experience in broadcasting.
The ace broadcast journalist with immense experience in radio is billed to commence work at Pure FM soon, one of the radio stations being operated by ABN.
The radio presenter is a favourite amongst radio listeners in Kumasi and, thus, the mere mention of his name elicits a lot of positive reactions. He has, indeed, carved a niche for himself through the power of the radio.
Many radio listeners see him as a great radio presenter who knows how to put smiles on the faces of moody listeners.
Though Mr. Adinkra has refused to comment on reasons for his move to a new station, sources have indicated that move was to seek new challenges in a different environment.
ABN, which is owned by Dr. Kwaku Oteng, is made up of radio and television outlets, which include Angel FM, Pure FM and Angel TV.
The ace broadcast journalist, who is also a musician with a number of songs to his credit, has featured on countless media platforms to share his opinions on key national issues.
---Daily Guide