Patapaa's Manager FreeBody storms social media with his latest G-Wagon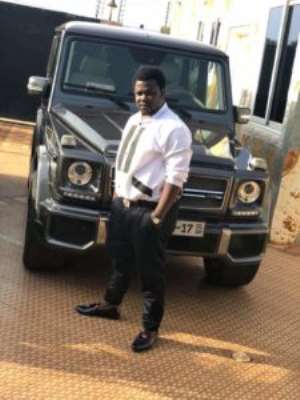 Frank Freebody the man behind the one corner' hitmaker's success and also the newly appointed CEO of freebody entertainment has been captured by our team on Social Media with his newly purchased G wagon Benz car which is believed he intentionally bought it to help rebrand his artiste Patapaa and help convey him And the team to their events, radio interviews and other travellings.
Apparently, Patapaa is the only musician in Ghana to penetrate across Africa countries and the world with his one corner song and the one corner dance.
As all can bear witness since the one corner song couldn't stand a long duration of trend in the system that could have been the end of his journey in music but the Pa2pa man never gave up.
Also, having a good management is the best thing ever every artiste must seek for, but I think Patapaa new manager really deserves some reward for professional pushing the young artiste brand and managing his music career to this far.
Freebody owns the biggest drinking pub in Swedro and also credited for Owen many businesses in Swedro and Accra
Over the years the young gentleman has really worked hard to sustain Patapaa relevancy in the music industry and has really gotten him a lot of gig's as arguably I must say Patapaa still remains the most trending artiste on Social media aside Shatta Wale.