Meet The Fashionable Red Carpet Host For GMIA 2018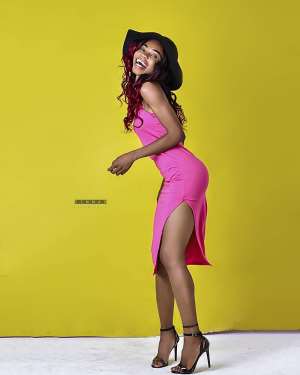 Ghana Modelling Industry and Heroes Awards is slated for 15th December 2018 at the National Theatre, Accra.
The maiden edition of Ghana Modelling Industry and Heroes Awards is to recognize members that have been outstanding throughout the year and also show appreciation to some industry players who have supported the arts over the years.
TV personality and model Larkuor Adjartey known as Lark Gh is set to give us the most stylish live updates from the National Theatre, Accra straight from where all the action will be—the red carpet.
Lark Gh is going to be on the lookout for the glitzy event's most beautiful and handsome faces, the best-dressed gals and lads, the most attention-grabbing gowns and suits, and the biggest and brightest of smiles.
Her varying tastes in style and beauty are definitely going to give us a well-rounded fashion report of the Ghana Modelling Industry and Heroes Awards noteworthy looks and moments, providing audiences from far and wide tons of style inspiration and advice to keep in mind.
Larkuor Adjartey is a multi-talented, diligent, honest and industrious Lady. She is also parading an interesting background both as a beauty pageant, radio producer/presenter, event planner, photo model.
she is the CEO of Lark TV, the boss of FA Media the organizers of Face of Ga-Dangme and the founder of Lark Foundation.
Her image and photographs are on demand and she has featured as the frontline model for some Fashion Designers, photographers, print & tv commercials in Ghana. She has strengths in Brands Management & Brand Building, Marketing & Media Production, Events Management & Events Coordinator, Communication/Negotiation/Facilitations Skills, and very good Human Relations.