Ghana Music Awards South Africa 2018: Full list of winners (Videos)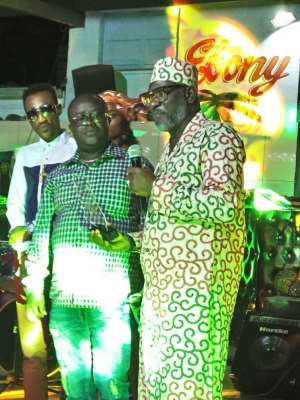 The Ebony Lounge in Pretoria came alive on Saturday 3rd November, 2018 with the maiden edition of the Ghana Music Awards South Africa which saw popular musicians like Stonebwoy ,Shatta Wale Article wan, Patapaa and several others sweeping awards from their contenders.
The night which celebrates the hard work of Ghanaian musicians in the country and in South Africa encountered some great performances from both Ghanaian, Nigerian and South African musicians like Article Wan,Praye Honeho, Quata Budukusu, Late Ebony's father, Maccacio etc .
From the international side South African celebrated Musician and 2017 Black Entertainment Television Awards nominee Queen of Gqom Babes Wodumoalso, Tamara Dey
Though it was the maiden edition the organizers were able to gather over Hundreds of people at the Ebony Lounge in Pretoria.
Here are all the winners of the Ghana Music Awards South Africa for the year 2018;
1* LIFE TIME ACHIEVEMENT
ELDER MIREKU
2* YOUTH EMPOWERMENT PROJECTS
CHOIR MASTER
3* BEST INTERNATIONAL ACT EAST AFRICA 

VANESSA EMDEE (TANZANIA)
4* BEST INTERNATIONAL ACT WEST AFRICA
MEDOSKY
5* BEST INTERNATIONAL ACT SOUTHERN AFRICA 

BABES WODUMO (SOUTH AFRICA)
6 * BEST MUSIC JOURNALIST / BLOGGER OF THE YEAR 

NII ATTAKORAH MENSAH
7 * BEST DJ OF THE YEAR
DJ SWITCH 

8 * GOSPEL ARTISTE OF THE YEAR
JOYCE BLESSING
9 * PROMISING ARTISTE OF THE YEAR 

MACCASIO
10 * NEW ARTISTE OF THE YEAR
WENDY SHAY 

11 * BEST GROUP OF THE YEAR 

REGGIE AND BOLLIE

12 * HIP-LIFE ARTISTE OF THE YEAR
QUATA BUDUKUSU
13 * BEST RAPPER OF THE YEAR
STRONGMAN BURNER
14 * MOST POPULAR SONG OF THE YEAR
ONE CORNER (PATAPAA) 

15 * HIGH LIFE ARTIST OF THE YEAR
KUAMI EUGENE
16 * BEST MALE VOCALIST OF THE YEAR
KING PROMISE
17 * DANCE HALL ARTIST OF THE YEAR 

SHATTA WALE
18 * REGGAE / DANCE HALL SONG OF THE YEAR
EBONY (SPONSOR) 

19 * BEST COLLABORATION OF THE YEAR 

ARTICLE WAN X PATAPAA (THAT THING) 

20 * BEST PRODUCER OF THE YEAR
MASTER GARZY
21 * BEST MUSIC VIDEO OF THE YEAR 

CITIZEN WELKINS
22 * ARTIST OF THE YEAR
STONE BWOY
From Ghana CEO Of Zylofon media Nana Appiah Mensah for his role in the Ghanaian Music Industry and Attractive Mustapha NII OKAI Inusah for his contribution in promoting the event
1* SOUTH AFRICAN BASED NEW ARTIST OF THE YEAR
AKU MERCY
2* SOUTH AFRICAN BASED BEST HI-LIFE ARTIST OF THE YEAR 

POLAMO
3* SOUTH AFRICAN BASED BEST MUSIC VIDEO OF THE YEAR
9PM AFRICA
4* SOUTH AFRICAN BASED GOSPEL SONG OF THE YEAR 

DRUMPIPO
5* SOUTH AFRICAN BASED MOST POPULAR SONG OF THE YEAR
FINAL SOLUTION DO LIKE I DO)
6* SOUTH AFRICAN BASED HIP-LIFE ARTIST OF THE YEAR 

FINAL SOLUTION
7* SOUTH AFRICAN BASED BEST CLUB DJ OF THE YEAR
DJ SHADOW
8* SOUTH AFRICAN BASED BEST COLLABORATION OF THE YEAR 

POLAMO X DJ MAPHORISA X DJ BUCKS (SOMTHING ABT U)
9* SOUTH AFRICAN BASED BEST CULTURAL AND LIVE BAND GROUP OF THE YEAR 

SANKOFA BAND
10* SOUTH AFRICAN BASED BEST GOSPEL ARTIST OF THE YEAR
DRUMPIPO
10* SOUTH AFRICAN BASED BEST PRODUCER OF THE YEAR 

C-TEA
11* SOUTH AFRICAN BASED ARTIST OF THE YEAR 

POLAMO
13* SOUTH AFRICAN BASED PROMISING ARTIST OF THE YEAR 

CASANDRA