The name Magesty was not tagged on me to gain favour or attention from Shatta Wale - Magesty fames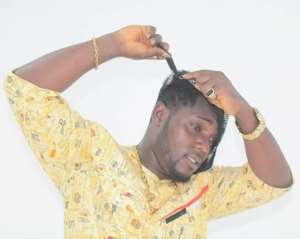 I disagree with those who say I picked a name to gain fame from Shatta Wale and his movement.
One of the most positive artistes of Ash-town (Ashaiman) who is known on stage as Magesty has taken a stand to convince all and sundry that, he never named himself after shatta Wale's son for the sake of gaining popularity.
Speaking to Magesty in an interview, he revealed to us the reason behind his name.
"first of all my name Magesty is for show business, but my real name is Francis Xavier and I hail from Ashaiman. According to my research, "Magesty" simply means stardom and greatness.
"I have been using this name since way back 2006 and for that matter, I disagree with people who are saying I picked the name just to get favour and attention from Shatta Wale and his movement." The Ashaiman representative added that he started using the name Magesty in 2006.
Magesty went further to state that he never sees anything bad if he tag himself after Shatta Wale's son or vice versa. "I want to use this opportunity to say even if Shatta named his son after I or I named my self after Shatta Wale's son, it doesn't mean any evil. After all, I never heard any parents named their children after Judas or Satan.
Magesty concluded by posing the differences between his name and that of Shatta Wale's son. "Also, people must know that I spell my name different as compared to that of Shatta's son. My name is spelt as 'Magesty' and that of Shatta Wale's son is 'Majesty', but same pronunciation.
He later congratulated Shatta Wale for being active in the music industry, and not forgetting his son Majesty. "Shatta Wale is one of the stars in the Music Industry in Ghana. I respect Shatta Wale so much and likes everything about him. I also wish his son all the best and may he grow to become relevant like his dad."
"I want to also use this opportunity to say a big shadout to all my fans; they are royals, they are kings and queens, princes and princesses. Big shadout to Royalmuvment Klan, Kingbauer, Dizybeatz, Shottoh blinqx, Tvee and everybody. Thanks, for support!!! e s o r n a w a"