Talented Kid Samuel Owusu On Dubai Tour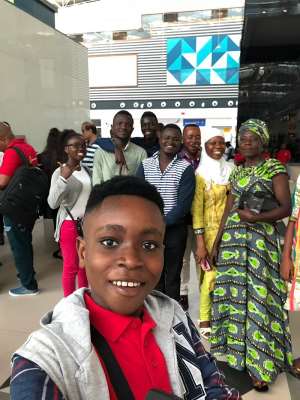 Winner of Talented Kids Season 9, Samuel Owusu has left Ghana for Dubai where he is expected to spend a week touring.
Whilst in Dubai, The gifted rapper will visit attraction sites including the Desert Safari, Dubai Dolphinarium, Burj Khalifa & other historic sites.
The All-expense paid fun trip forms part of his package as Winner of Talented Kids.
At 5:50pm Yesterday Evening, Samuel Owusu and his team flew at Kotoka International Airport to Dubai International Airport for a week long tour financed by British Columbia College.
The fully paid all expense trip to Dubai was part of the winning package for Talented Kidz 2018 winner, Samuel Owusu also known as Young King Clef.
Yesterday Samuel was picked up from his home around Atomic Roundabout to KIA in a grand style accompanying a motorcade and an exclusive coverage by TV3.
This special treatment was as a result of the young rappers hardwork and the rap skills he portrayed at the Talented Kids reality which ended last may.
The young rapper is expected to visit, a whole lot of places including;
He is also expected to perform at some selected places Dubai before he come back to Accra.