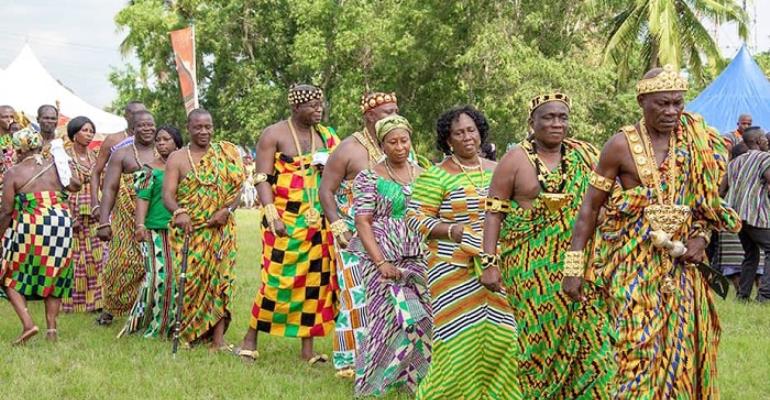 Ghana is rich in diverse ways when it comes to fashion. Indeed, there are different prints, styles and fabrics to show the country's fashion is outstanding.
Its distinctive taste in clothing stands very tall among many other African countries.
Currently despite the abundance of Western influence on the continent in terms of what to wear, majority of Ghanaians still love their traditional styles and, indeed, it looks good on them.
Even more beautiful is the current government's 'Wear Ghana' initiative to empower Ghanaians and beyond to embrace local fabrics.
This week, NEWS-ONE brings to tourists who are visiting Ghana some of the beautiful Ghanaian clothes and styles they should embrace while touring and seeing Ghana.
This is part of an initiative by the office of the Ministry of Tourism Arts & Culture to guide tourists to the best experiences in Ghana.
Ghanaian Smock
This is a special attire worn by chief and kings of Northern Ghana. However, it has also become common these days because designers have found a more stylish way to make it for the youth and persons who want to have informal ways of wearing the traditional dress. Out of it came the 'dansika', 'batakari', etc. Sometimes referred to as 'fugu', the smock has a neckline and most times the front part is embellished with embroidery. It is worn by women. It is also worn with small round skull-cap widely used in Africa or a red fez hat. Don't miss an opportunity to buy one of these beautiful outfits when in Ghana.
Kente Cloth
This is a brilliantly colourful fabric, entirely hand-woven by Ghanaian weavers. The brilliant colours and intricate designs associated with kente have definitely made this fabric the best known of all Ghanaian, and perhaps even all West African textiles. Every design has a story with a proverbial meaning; giving each cloth its own distinction. Kente cloth is usually worn for ceremonies, festivals and other sacred occasions. It is also given as a gift for weddings, child naming ceremonies, graduations and other special events.
Kaftans
Kaftans were regarded as strictly Islamic women's clothing. But today, it is regarded as a wardrobe essential by a cross-section of people, from celebrities to 'wannabe fashionistas'.
Kaftans originated from the Middle East, but kaftans have now taken Africa and the Western fashion by storm in recent times.
Lately, women are rubbing shoulders with the men because the loose cut is perfect for hiding problem areas such as a bulging waistline, unsightly bat wings and big untoned thighs.
For the ladies, kaftans can be designed to create a more feminine and shape-enhancing outfits, cinched at the waistline to emphasize the body curves. Those that are embellished are better worn without any accessories, especially since they can be used to show off a graceful neck, so watch out that you do not over accessorize. Tourists should try this beautiful outfit.
Ghanaian Print Blazers
This is perhaps the most popular trend among the classic men and corporate ladies at the moment. Wearing a nice black, blue or grey suit is classy and gentlemanly but rocking a colourful African print blazer on top of some dark coloured trousers makes a much bolder statement. What you wear is always dependent on where you are going but African print blazers hardly go wrong. Ladies are not left out as they can do a similar combination like the men. They rock these blazers with skirts, tight dresses or even denim. Call this a new style or an alternative to formal dress suits, it's just a perfect way to modernize suits and look trendy.
Maxi Ghanaian Designs
Although Ghanaian women love to also showcase their curvy body shapes and sleek worked out bodies, maxi or oversized clothing even makes them look better. They are elegant and sometimes come in skirts, overalls, dresses and trousers. Fashion designers have a way of making them even more stylish and classic for the modern woman. Whether you want a style that is modest and all covering or are going for a more daring look with some skin showing them the maxi will be perfect. The Ghanaian maxi dress is beautiful and tourists are encouraged to adorn themselves with it when they visit Ghana.
Dashiki
Dashiki print has become everyone's favourite all across the world, especially in Africa where it expresses a unique taste. The beautiful and comfortable dashiki can be designed inform of a long, knee, or ankle length dress depending on your preference. It is perfect for the warm weather in Ghana or for an evening out on the town. You can design the dashiki print and rock it over shorts, jeans or leggings. It is a formal wear African wear for women. Moreover, it is comfortable, lightweight cotton dress material that is fitted with African wax print on the center front, sleeve and bottom. You can also curve the hem and slits. This is a common style that has been rocked by many Ghanaian celebrities and governmental officials. It is work appropriate and also can also be worn during engagements and by the bridal party during the wedding.
Sporty African Outfit
Ghanaian designers do a lot of fabrics. If you are going to watch a match or going to the beach in unusual style, Ghana offers you shorts and skirts perfectly made with African fabrics and prints. They look very trendy like other sports or beach wears on the market. It always beautiful in such outfits and it gives you all the attention you need to be confident. Be trendy; be fashionable with Ghanaian made wears.
Printed T-Shirt
There is a new craze for fusing Ghanaian print with already made Western cloth to give a different identity. The African print T-shirt, as it is often called, looks awesome when paired with a hat and a pair of Ghanaian print shorts. You can complete the look with a pair of sneakers. While this look has been appearing in fashion shows, it is now catching up with most Ghanaians and this is recommended for tourists visiting.
Traditional Suit
African styles have slowly transformed into fitting traditional suits that can be worn as casual wear. These attires are flawless and perfect for attending events. In Ghana, it's not a different tale. Designers have enlivened the standards and tourists are trusted to get the best of traditional suits they want from Ghana.