Shatta, Sarkodie Are Disgracing Ghana - UK-based Gospel JM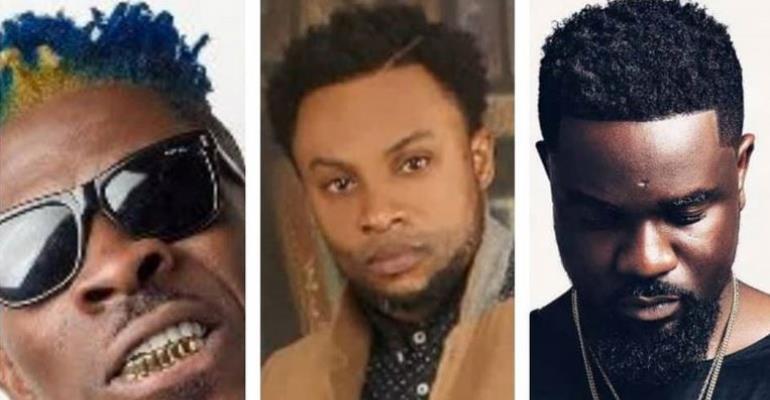 UK-based popular Ghanaian gospel artiste,Joseph Matthew has revealed candidly that Shatta Wale,Sarkodie,Kwaw Kese,Yaa Pono and Stonebwoy are disgracing Ghana with beefs.
Social media a week ago was set on fire over a track released by Sarkodie in response to the fooling of Shatta Wale.
Rapping over Joey B's 'Stables' instrumentals (produced by NOVA), the three minutes and six seconds, black-and-white video has Sarkodie addressing some of Shatta Wale's assertions; throwing back some diss remarks; and offering a piece of advise on how to brand his image.
The video has generally received positive reviews from Ghanaians who are sharing lines from the track and dissing Shatta Wale on top too.
Not left out are ,Lexis Bills,Gary Al-Smith ,Ekumaa Mama Zimbi and Bhim Nation fans who are riding the waves of insults heaped on the head of the self-styled Dancehall King christened 'Gbe Naabu' from a previous diss battle with another Tema-based rapper, Yaa Pono.
Sharing his view on Sarkodie's diss song, the UK-based Ghanaian gospel artiste Joseph Matthew aka JM indicated that he doesn't see the essence in artistes dissing themselves thus Shatta Wale,Sarkodie,Stonebwoy and Kwaw Kese are disgracing Ghana with beef songs:
"Razz, to me this is not necessary at all...seriously diss songs doesn't portray togetherness and that's what we should be doing in music.. bringing people together not separating...All the other countries are watching and listening ...If we believe ourselves to be a musical powerhouse in Africa then more is required of us",JM said in an interview with Razzonline.com
JM continued,"Shatta Wale,Sarkodie,Stonebwoy ,Yaa Pono and Kwaw Kese should stop this dissing and beefing stuffs because they are giving Ghana a bad name – oh yes infact they're disgracing us".
JM caught attention of music lovers when he was featured in a UK magazine in 2007 after a captivating performance at Stratford Rex London.
JM's music is typically classical soul-lifting messages full of didactic Christian teachings and moral biblical doctrines. He is currently recording his long-awaited gospel album ('Solid Rock') featuring the hit single, 'Hallelujah'.
'Hallelujah' which is extremely melodious and spiritually touching is to strengthen people's faith in God and acknowledge his greatness,
"My expectation is that people will encounter the Lord Jesus as they sing and reflect over the song," he revealed, adding that his focus is to win souls for the kingdom of God through his songs.