Rosemond Brown Warns Archipalago In New Video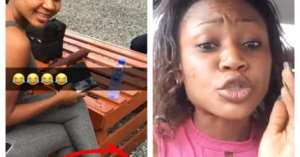 The battle between the Rosemond Brown and Achipalago grows fiercer by the day. And this time, they just keep hyping 'Togo' goods.
After Akuapim Polo came for Achipalago for wearing Togo jeans in the states, the gentleman couldn't resist a comeback from that jab. He also posted a picture of the attention seeker in sneakers which were supposed to be an Adidas brand but turned out to be a poor imitation. He captioned the post saying, 'Togo wear bi 3d3. This is just for clarification … she is indeed a clown.'
Knowing his opponent in this shading match, it's no surprise when she came right for his throat. And as usual, she went big with a video directed to him. In the video, Rosemond Brown accused Archipalago of hating on her and trying to bring her down by scavenging through her pictures.
She was heard saying, 'Palago stop hating on me … who told you that my shoes are Adidas? It's a new brand of footwear that is coming out. I did not buy it here, I bought it in Dubai. Do you get me? Just wait it will be in the system soon. And stop hating?'
Is this going to be the last we hear of the two bickering couple or not?
WATCH VIDEO HERE: