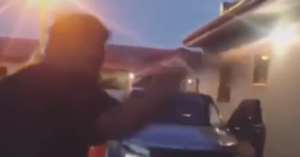 The Dapper rapper wants us to know that money is never a problem with him. Whenever Medikal's dogs are hungry, he feeds them with KFC chicken.
In a video, the rapper posted on his Instagram story, he is seen holding a bucket of KFC chicken and throwing it out to the dogs. He's heard saying, 'KFC for my dogs …'
Once upon a time, there was an article about how Ghanaians have fallen in love with junk food and consequentially resulting in big food chains and obesity in the country. Apparently, this fast food fever has affected our pets too as the Amg rapper feed his two dogs with chicken from the popular fast food joint.
The rapper who doesn't see to pass any opportunity to showcase his wealth is making a bid statement this time. Is he shading the slay queens always chasing after KFC? WATCH VIDEO HERE: