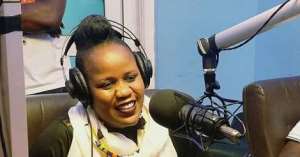 Award-winning Afro Soul musician, Sherifa Gunu has revealed what she will do to DJ's who won't promote her new singles 'Kelewele'.
According to Sherifa, she will fight any DJ who doesn't promote her new song 'Kelewele'.
In an interview with on Zylofon FM, Miss Gunu jokingly threaten to deal with any Ghanaian Disc Jockey (DJ) who fails to play her new single, 'Kelewele'.
'I will fight every DJ and radio station who would not play this song of mine. It is a good song, and so I urge every DJ and radio station to play it frequently,' she said.
According to her, the song which was produced by IbeeOnDeBeatz is a song which has been dropped to take over the Ghanaian airwaves.
The quite old yet energetic musician, finally made an interesting statement indicating that the drama which occurred after the launch of Zylofon Media -Nigeria, wouldn't have happened should she have been there to perform.
"Nigerians would've never rejected Sherifa Gunu if I was on bill that night at the Menzgold/Zylofon Media opening in Nigeria, says Sherifa Gunu," she fumed.
Sherifa Gunu is popular with her strong stage performances and some other great music tunes such as 'beautiful', and she is currently promoting her new singles "Kelewele"