How Can You Threaten Your President? - Shatta Wale To Stonebwoy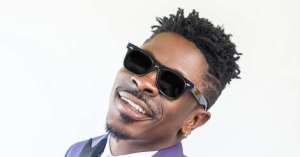 It looks like the feud between Shatta Wale and Stonebwoy is not ending anytime soon.
Stonebwoy in an interview on Sunday, 9 September, 2018, angrily lambasted Shatta Wale for accusing him of killing his own mother, sending a strong warning to the 'Gringo' hitmaker.
'You go and say I killed my mother and come back and text me that you want peace, you want to make music?,' Stonebwoy said on Hitz FM.
President of BhimNation dared Shatta Wale to 'come and stand' in front of him and accuse of him of killing his mother. He threatened that the end would be 'beautiful'.
A recent post on Shatta Wale's official Twitter account could be a response to Stonebwoy's claims in the interview with Hitz FM.
Shatta asked how the president of dancehall be threatened in his own state. He tweeted:
"How can you threaten your own president, (laughing emojis) you cause fear and panic...(laughing emojis) to the whole dancehall state (laughing emojis * running emojis)."