Ghana and Denmark musically collaborate on Clean Water and Sanitation campaign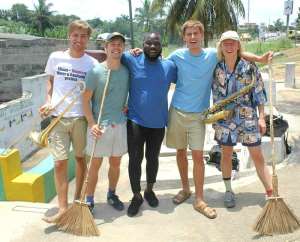 As the saying goes CLEANLINESS IS NEXT TO GODLINESS, Denmark's Music group TOTAL HIP REPLACEMENT Band is currently in Ghana in collaboration with S24 recording Studio to embark on a project that will boost the campaign for clean water and good sanitation in Ghana especially the rural areas.
As one of the major crisis that leaves the whole country a nightmare is sanitations, Music Producer Joseph Appiah also known as Kwik action established to komfaonline.com that they have already recorded a song with the titled NSU PA which was composed, Arranged and Recorded by him and features the Denmark music group.
Mr. Appiah continued to assert that as education is universal, they intend to look at another project titled CLEAN WATER workshop in the rural areas.
"Education is a universal right! So therefore educating the masses through music in the area of sanitation will help the campaign properly, another area we are looking at is to organize CLEAN WATER workshop especially rural areas. "He said.
As a music producer for past 15 years, Mr Appiah believes that passing their Sanitation campaign messages through music will the boost the agenda therefore making it easier to capture the attention of the masses.
"I believe I can use my music to promote Clean Water/Sanitation message across the world
We believe music can be used as an instrument for addressing many of the developmental challenges confronting our society today.
Music can be used as a tool to raise awareness of the issues that our people face daily. Issues related to illiteracy, environment, sanitation and many more, The creative arts ministry must encourage initiatives like this to sell Ghana positively as an investment and Tourism destination and to communicate the beauty of Ghana and her cultures." He added
According to Mr. Appiah Musician Union Of Ghana(MUSIGA) has already endorsed the agenda and they are looking forward to earn the endorsement of other international bodies.
"This collaboration has been formerly endorsed by the Musician Union Of Ghana(MUSIGA) and we looking forward to partner with DANIDA,USAID,UNISEF and the EUROPEAN ENVIRONMENTEL AGENCY to strengthen the bond between Ghana and Denmark in the area of Clean Water/Sanitation" He continued.
"My Mother Juliana Owiredu has been in active service in the Ministry of Health over 35 years and I gained a lot of inspiration from her when I was a little boy, She worked with COP mobile clinic as a community health care Practitioner and later joined Ridge Hospital Accra,Alfa medical etc,"He added.
The main aim of this collaboration is also to promote Cultural exchange between the two countries that is Ghana and Denmark.