Purple Soul Records Line Up Super Talents To Takeover Music Industry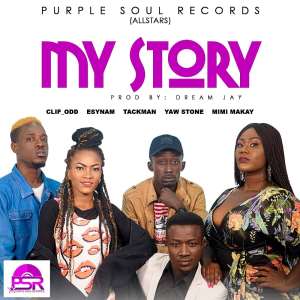 Ghanaian-owned Record Label, Purple Soul Records, last Saturday unveiled 5 super talents at the plush De'Lish Restaurant located at Okponglo-Bawaleshie in Accra.
The five new artistes, who are multi-talented in modern genre of music including afrobeat, rap, hiplife, highlife, soul music among others are more than fired up for serious music business.
The Artistes include Clif.Odd, Esynam, Tackman, Yaw Stone, and Mimi Makay.
According to the Chief Executive Officer (CEO) of Purple Soul Multimedia, Richard Borsah, the Music industry needs hardworking new faces to takeover from the old faces who set the pace.
"Purple Soul Records has come to stay and we are going to make sure that music talents are well exploited to the advantage of our Artistes. These guys are young but have a lot to offer and we believe this is the time to take Ghana music beyond Africa," the Purple Soul Records CEO emphasized.
Check out this great song composed by all five artistes. They call this classic song 'My Story'
This is the First Group Single of all Artistes under Purple Soul Records (PSR) now out on YouTube.
Click on the link to watch, like, comment, subscribe and share.