What Happened To Juliet Ibrahim's Tattoo She Got With Iceberg Slim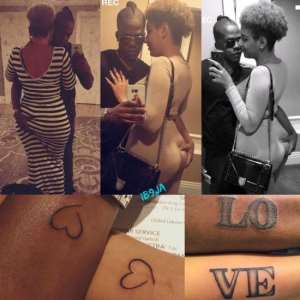 Ghanaian Actress Juliet Ibrahim and Iceberg Slim relationship is a pure connotation of the saying do not make permanent decisions based on temporary feelings or emotions.
Their relationship ended with a swiftness that cannot be brought to book— they had their days and lived their love story quite well.
Their PDA's were on point and equally enviable with kissing scenes on national television to the news of a possible song from the both of them which never entered the realms of reality. No one can actually place their hands on what caused the break-up but I bet they have their reasons for wanting to let each other go.
That brings us to the tattoo they had together. Unless it was not permanent. We can remember vividly well that they got themselves inked literally with love with Iceberg having the letters LO and Juliet VE. Jhene did same with Big Sean and we have been wondering whatever happened to it now that their relationship is nothing to write home about.
Did Juju rid it off to avoid it being a constant reminder of another failed relationship or she kept it to know the people she is not supposed to let into her life.? We are asking for someone.